"Absolutely Not" Kathy McGuiness responds to calls for her to resign following being found guilty in State Auditor's Office Lawsuit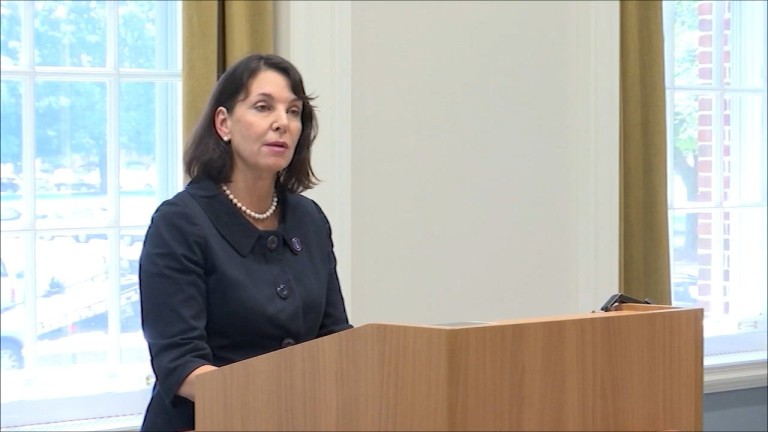 DOVER, Del.- Embattled Delaware State Auditor Kathy McGuinness is resisting calls from Delaware Governor John Carney and Senate Democrats to resign following being found guilty of three of five counts in a lawsuit by the Delaware Attorney General's Office against the State Auditor.
McGuinness is pushing back on the conviction, calling the evidence that was presented to the jury "biased and cherry picked."
McGuinness was found guilty of conflict of interest, structuring, and official misconduct while acquitting her of felony theft and witness intimidation counts. The conflict of interest and official misconduct charges stemmed from the hiring of McGuinness's daughter to a position to the State Auditors' office.
McGuinness says despite the loss in confidence from democratic leadership, she will not step down and plans to file a motion to acquit and a motion for retrial ahead of her sentencing hearing.
"I know Senator Sokola is leading calls for resignation but a conviction is not final until one is sentenced and we have a sentencing date and that won't until the court rules on the two motions of judgment we have submitted," McGuinness said.
Delaware Governor John Carney released a statement following the ruling, acknowledging that his office cannot fire McGuinness until she is convicted at a future sentencing hearing.
Senate Democrats released their own statement, echoing the legal assessment reached by Carney's office, but said that if McGuinness fails to step down they will take action into their own hands.
In a Joint Statement from  Senate President Pro Tempore Dave Sokola, Senate Majority Leader Bryan Townsend, and Senate Majority Whip Elizabeth "Tizzy" Lockman, the state Senators said
" "Based on the clear legal precedent established in Slawik v. Folsom, the Senate agrees with Governor Carney that at this stage he cannot unilaterally remove the State Auditor from her position under Article XV of the Delaware Constitution.  At this juncture, we believe both the Constitution and the gravity of Auditor McGuiness's crimes compel the General Assembly to make use of its own authority to remove her from office, whether via Article VI impeachment or Article III removal proceedings. Today, we want to make crystal clear our intentions to do exactly that for the Delawareans who are demanding accountability following the Auditor's egregious breach of public trust. 
Delawareans deserve a State Auditor who is able to safeguard taxpayer dollars and good fiscal stewardship ethically, expertly, and free from further distraction or additional abuses of power. In short, the power of incumbency must not prevail over the people's rightful demands for accountability. We once again call on Auditor McGuiness to place the public's interest ahead of her own and resign. Otherwise, the General Assembly must exercise its Constitutional powers and the Senate is prepared to lead the way.""
47ABC reached out the Attorney General Kathy Jennings's office which issued the following statement;
""This was all litigated pretrial and the Auditor's team continues to parrot this line baselessly. When this came up the first time we asked the defense for evidence of any apples-to-apples comparison with the Auditor's criminal misconduct. They provided precisely none. Because of that, the Court precluded the entire "selective prosecution" line of argument at trial. To date we continue to see plenty of finger pointing but no acceptance of personal responsibility and certainly no evidence.
The Auditor had her day in Court and the jury spoke. We're not going to make a practice of indulging her team's strawmen and we'd encourage others to be equally skeptical of things summarily denied by the court.""
A sentencing date for McGuinness has yet to be announced.