Remembering Sept. 11th at the Dover Air Force Base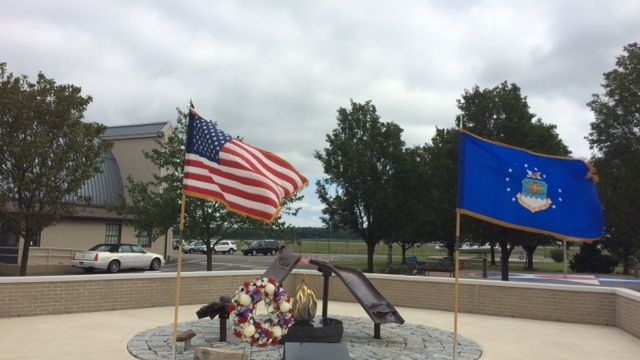 The Dover Air Force gathered on Monday to remember those who died on September 11th, 2001. Of the 2,977 who dies in the 9/11 attacks 300 were first responders. Air Force officials laid a wreath in honor of the fallen heroes.
The Air Mobility Command Museum became home for the first public 9/11 memorial that had two pieces of steel from the World Trade Center, a rock from the United Airline Flight 93 crash site, and a block from the damaged portion of the Pentagon.
Rocky Vazquez , the Fire Department Crew Chief of the DAFB says, " People in these jobs that sacrifice their lives everyday to help others. 9/11 and still today to take away the fact that there is still courageous people that do things without thinking to help others."
Til this day many Americans remember where they were and what they were doing.
Rodney Coleman, the Deputy Fire Chief of DAFB say, "I got a phone call from my superiors they said stand down something is going on and return back to the base so I went back to the base fire department that we were inspecting and everyone was glued to the television."
Rocky Vazquez the Fire Department Crew Chief of the DAFB say, "I remember the teachers putting us on break so we could go out and take a break and that's what we thought but when we got news of 9/11 we got released for the day."
Coleman wants Americans to remember one important message,"One of the mottos that came out of 9/11 is we will never forget and that's one of the things we want to do its not just about 9/11 …but it's about remembering everyday and remaining vigilant that sacrificed and lost everything."