Sen. Carper: Proposed health care act could affect thousands in Delaware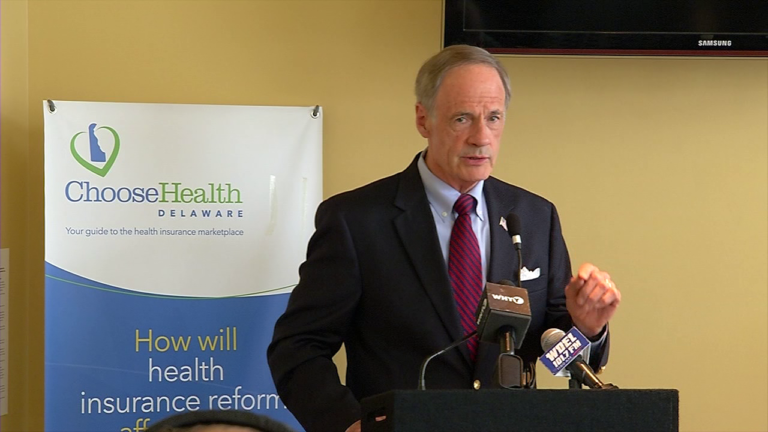 A call for change on the current health care legislation on Capitol Hill.
That's the goal Delaware U.S. Sen. Tom Carper is trying to achieve and the reason behind Monday's press conference in Dover, among other state officials.
"Well the legislation the House has passed reduces the number of people covered in this country by about 23 million people, it is essentially a tax cut for wealthy people disguised as reform," says Sen. Carper.
U.S. Sen. Tom Carper says this comes while Senate Republicans are working on their own version of the healthcare bill behind closed doors just weeks after the American Health Care Act passed in the U.S. House of Representatives.
Carper and other officials question the contents of the bill saying it would not only affect millions of Americans, but thousands in Delaware too.
"If we face these reductions in Medicaid funding or the health insurance marketplace, thousands of Delawareans will lose their coverage," explains Del. Dept. Of Health and Social Services Secretary Dr. Kara Odom Walker.
Dr. Kara Odom Walker tells us under the proposed bill Medicaid funding in Delaware will be cut by $2 billion over ten years, greatly impacting the vulnerable communities within the state.
"We currently are responding to an addiction epidemic up and down the east coast but certainly here in Delaware. We have a growing older population in the southern part of our state people want to come here to retire yet we're taking away their access to affordable coverage."
Sen. Carper mentioned President Trump did have a good idea earlier in the year when he spoke of better healthcare coverage for everybody for less money, but Carper says this bill does not do that.
He hopes Republicans will open their doors and start a bipartisan negotiation to make sure it's done right, adding the Affordable Care Act isn't perfect either.
"I think the key message here is, let's work this out let's work together. There's an old African saying if you want to go fast go alone, if you want to go far we go together and we want to go forward so we need to work together,"explains Sen. Carper.
And to further alleviate the possible effects of the current proposed health care bill, U.S. Sen. Tom Carper along with Virginia U.S. Sen. Tim Kaine introduced a new health bill to the Senate last week.
It's called the Individual Health Insurance Marketplace Improvement Act.
Sen. Carper hopes this bill would help lower premiums by stabilizing the individual health care marketplace.
Adding, it would create a permanent reinsurance program for people whose employers do not provide insurance and aren't eligible for Medicare or Medicaid.
Sen. Carper explains, "The Trump administration for reasons that are not clear to me, have sought to destabilize the exchanges to drive up premium costs and the cost of deductibles and co-pays and we shouldn't be doing it. We should be doing it the other way, so Senator Kaine and I offered legislation to help stabilize the insurance pools, so that insurance company's will actually want to cover people in Delaware and the other 49 states."