More drop-off locations for National Take-Back Day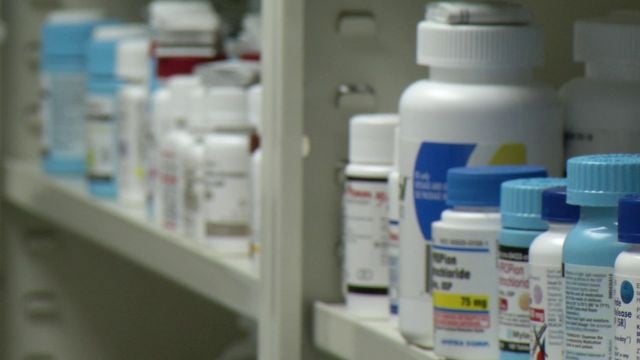 National Prescription Take Back Day is October 22, and law enforcement agencies in Maryland and Delaware are participating.
The National Prescription Drug Take-Back Day is held in order to to provide a safe, convenient, and responsible way that people can get rid of prescription drugs, while also educating the general public about the potential for abuse of medications.
According to the release from the Maryland State Police, each barrack will act as a collection station giving people the chance to get rid of all unwanted and unused prescription drugs.  
MSP says that second only to marijuana, non-medical prescription drugs are the most commonly used drug in the country.  
Also, according to the Drug Enforcement Administration, the majority of teenagers abusing prescription drugs are finding an unlimited supply in their family's medicine cabinet.  
"The National Take-Back Day event offers the public a means to safely dispose of their unwanted or expired medications for free," said Shawn R. Ellerman, Assistant Special Agent in Charge of the Drug Enforcement Administration's Philadelphia Field Division and head of the DEA's operations in Delaware who spoke at the event.  "Our medicine cabinets are often the source for prescription opioid medicines that can potentially be abused by our family members and friends."  
The Maryland State Police, in partnership with the Drug Enforcement Administration, are asking citizens get rid of unwanted prescription drugs during the National Prescription Drug Take Back Day, 10AM to 2PM at state police barracks.
For a list of specific sites in Maryland, CLICK HERE
In Delaware, the Division of Public Health's Healthy Homes Program is coordinating the take-back day, also from 10AM-2PM. A release from the Office of Health and Rick Communication says that Delawareans can get rid of their expired and unused medicines at one of 27 designated collection sites statewide. Identification is not required, and no questions will be asked.  Collection sites will accept prescription and over-the-counter pills, liquids, cream medications, and even pet medications.  However, officials note that No syringes or inhalers will be accepted.
"Delawareans in each county will have many options to locate a disposal site near them.  We greatly appreciate the participation of each of these sites and their partnership in helping us promote safe prescription drug disposal," said Dr. Rattay. "Offering this opportunity can help Delawareans avoid painful addictions, illegal substance use, and tragic overdoses, as well as protect our groundwater from contamination by substances that are often improperly flushed down drains and toilets."
Permanent collection sites in Delaware are:
New Castle County
Wilmington Police Department – 300 N. Walnut St., Wilmington, DE 19801
Newark Police Department- 220 South Main Street- Newark
New Castle County Police Department- Sweeney Public Safety Building, 3601 N. DuPont Hwy.- New Castle
 
Kent County
Camden Police Department- 1783 Friends Way- Camden
Dover Police Department – 400 S. Queen St., Dover, DE 19904
Felton Police Department- 24 East Sewell Street- Felton
Harrington Police Department – 20 Mechanic St., Harrington, DE 19952
Smyrna Police Department – 325 W. Glenwood Ave., Smyrna, DE 19977
 
Sussex County
Georgetown Police Department – 335 N. Race St., Georgetown, DE 19947
Greenwood Police Department – 100 W. Market St., Greenwood, DE 19950
Delmar Police Department – 400 N. Pennsylvania Ave., Delmar, MD 21875
Town of Laurel Town Office- 205 Mechanic St. – Laurel
Ocean View Police Department- 201 Central Ave. – Ocean View
Selbyville Town Hall- 68 W. Church Street- Selbyville
Take-Back Day sites in Delaware are:
New Castle County
Delaware City Police Department- 407 Clinton Street- Delaware City
Delaware State Police Troop 2- 100 La Grange Ave.- Newark
Christiana Care Surgical Center- 4755 Ogletown Stanton Road- Newark
New Castle County Airport- 151 North DuPont Highway- New Castle
Wilmington VA Medical Center – 1601 Kirkwood Hwy- Wilmington
Shipley Manor Nursing Home- 2723 Shipley Road- Wilmington
Kent County
Atlantic Apothecary- 103. S. Dupont Blvd., Suite 2- Smyrna
Cheswold Police Department – 691 Main Street – Cheswold
Delaware State Police Troop 3- 3759 S. State St.- Camden
Dover AFB Commissary – 268 Galaxy St.- Dover AFB
Heritage at Dover Assisted Living – 1203 Walker Road- Dover
Milford Police Department- 400 NE Front Street- Milford
Sussex County
Dagsboro Police Department- 33134 Main St.- Dagsboro
Delaware State Police Troop 4- 23652 Shortly Road- Georgetown
Delaware State Police Troop 7 – 18006 Coastal Hwy.- Lewes
City of Lewes Board of Public Works – 129 Schley Ave. – Lewes
Milton Police Department- 101 Federal St. – Milton
Beebe Tunnell Cancer Center- 18947 John Jay Williams Hwy. – Rehoboth
Rehoboth Beach Police Department- 229 Rehoboth Avenue- Rehoboth
CVS Pharmacy- 36252 Lighthouse Road- Selbyville