Fruitland Primary supports United Way through a dump challenge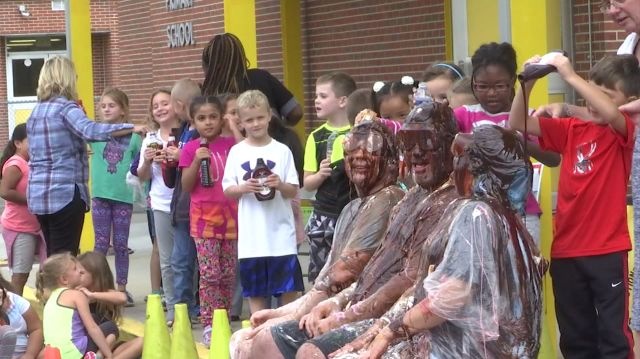 At Fruitland Primary School, the principal and two teachers were getting a lot of stuff dumped with multiple things on their heads, by their students, for a good cause.
Students could bring in $2 to bring some material to dump onto their teachers. They could bring applesauce, chocolate syrup, confetti, whip cream, feathers and even honey.
Schools in Wicomico County are competing to raise money for United Way. Fruitland Primary's faculty and staff have been participating for the last couple of years. Now they wanted to challenge the students to come together in a fun way to help others.
The students raised $543, in which all the dollars will stay local. United Way says they help different programs on the shore, in which they support 74 programs focusing on education, financial stability, and health.
The United Way representative, Amy Luppens, says that all of the schools are doing different things to raise money. But she says the dumping challenge is one of the more creative and messier ideas that she has seen.