Snowfall so far this Winter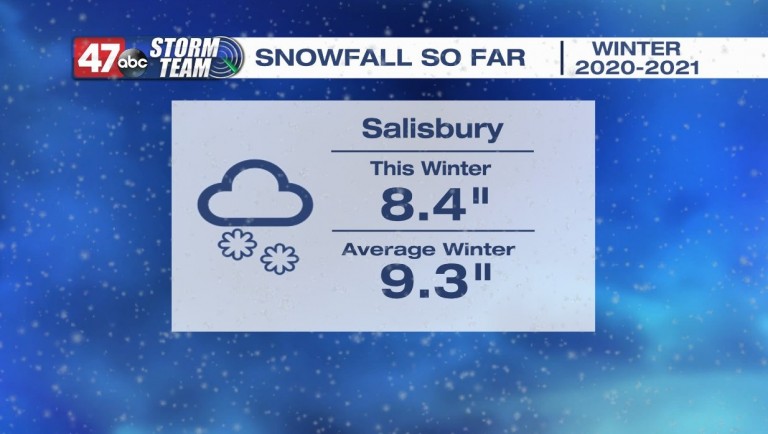 The 2020 – 2021 winter season had a slow start across Delmarva, but the second half of winter has turned more wintry. Salisbury is now officially closing in on an average winter in terms of snowfall, and there's still several weeks of winter to go. Salisbury's 2020 – 2021 seasonal snowfall total so far is 8.4". The average winter season brings us 9.3", so we're very close to that already. Below is a look back at the snow that has fallen so far this winter, including some pictures from each event.
The first measurable snowfall came on January 28th when 0.3" of snow fell.
The second snowfall was more significant, with 3.7" falling on January 31st. Then, another 2 inches of snow fell on February 2nd, which was actually snow associated with the same system that brought us snow on January 31st. It was a slow moving coastal storm.
The third storm that brought us snow was on February 7th when 0.8" fell in Salisbury, but northern Delmarva reported 2-4 inches of snow.
A fourth storm dropped 1.6" of snow the night of February 11th and into the morning of February 12th. Take a look at the second picture below, which shows a snow covered boardwalk in Ocean City, MD. The third picture is an MDOT camera showing Route 13 completely covered in snow in Princess Anne, MD. This storm brought southern Delmarva between 2-5 inches of snow. Some isolated higher amounts were reported. 6 inches of snow fell in Onley, VA.
And then we had an ice storm for northern portions of Delmarva February 13th where over 0.25″ of ice accumulated. Below are pictures from Hurlock and Cambridge, MD.
This winter so far is the snowiest winter we've had on Delmarva since 2018 – 2019. That season had a total snowfall of 5.3". The winter before that in 2017-2018 had 17.2″ of snow.