Group protests safety at Perdue, company refutes claims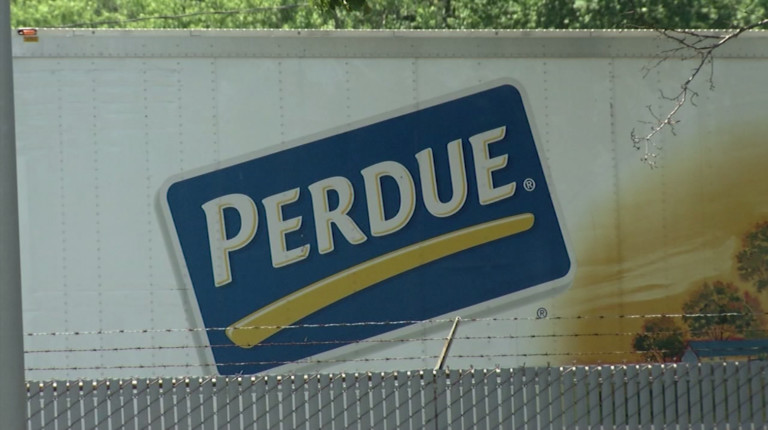 SALISBURY, Md. – A small group of people gathered in front of the Perdue processing plant on the corner of Small Street and the Ocean Gate Parkway. The group representing Physicians Committee for Responsible Medicine says they sent a letter to Maryland Governor Larry Hogan and other governors. They say the letter asked governors to close meat and poultry processing plants across the country. "This is a hot bed of the virus, and that's true of the slaughterhouses around the country. They need to be shut down for the worker's safety, but also for the safety of the public," said founder Neal Barnard, MD.
However in an email response, Perdue says that they've been working closely with government and health officials to monitor their employees' health. "Just some of the measures we have put in place include installing plastic and Plexiglas dividers to enforce social distancing; checking the temperature of everyone who enters our facilities using non-contact thermometers; sharing safety information with our associates in multiple languages; and extending the hours of our onsite Wellness Centers," the company said.
Barnard tells 47ABC that about 240 cases of COVID-19 could be found at meat processing plants in Salisbury. However, Perdue says "Approximately 600 people are employed at this facility, all of whom have been tested for COVID-19 either onsite or at local testing centers. This testing revealed a COVID-19 positive rate of 4.8 percent at our Salisbury facility." That number is dramatically lower than Barnard's claims.
Barnard says that meat processing puts people at a higher risk when it comes to contracting COVID-19. "We know that if the virus is on cardboard or steel or tile, it will last a little while and then it will die. But if it is refrigerated, for example, on a chicken carcass that has been refrigerated until it's in your home, it can last indefinitely. If it's frozen, same story," said Barnard.
But the CDC says "In general, because of poor survivability of these Coronaviruses on surfaces, there is likely very low risk of spread from food products or packaging."
Perdue says that the CDC has visited their plants, and that inspectors found favorable results. The company also says that they are taking recommendations from health officials into account when adjusting work procedures for employees. "We welcomed the CDC's visit, appreciated their support, and were pleased with their findings that we had already gone above and beyond expectations to protect our associates," said Perdue.
While the group was protesting, they held signs saying "Cholesterol is not essential". Barnard says that aside from the threat of COVID-19, the meat processing industry as a whole needs to be shut down. He says that because eating meat can lead to diabetes, it puts people at a higher risk of contracting COVID-19. "There's cholesterol, there's fat, in chicken. Even when you take the skin off. Cholesterol is not essential, which is my way of saying it can kill you, too," said Barnard.
The CDC says that while eating an excess of meat can cause health problems, consuming lean meats can also help people with diabetes to live a healthier lifestyle. Perdue did not directly address the groups claims about consuming meat.