Parents voice their concerns at Dorchester County school board meeting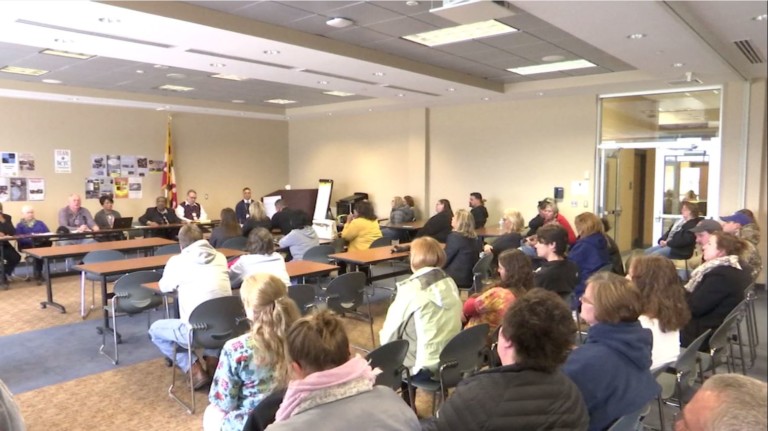 A number of different police agencies were represented at Cambridge South Dorchester high School Friday. An increased presence that 47 ABC has learned was requested by the board of education to ensure student safety.
According to Dorchester County Sheriff James Phillips, 10 students were arrested as a result of the so-called riot and on Friday the Sheriff telling 47 ABC that the incident on Thursday was unlike anything he has ever seen.
"I've been in law enforcement for many, many years and the situation that we encountered here yesterday is the worst I've ever seen. It was an extremely large and out of control situation for about 15 or 20 minutes," explains Sheriff Phillips.
Sheriff Phillips says police will continue to monitor activities at the school until they feel that things are back to normal, even if that means they must have an increased presence through next week.
He also tells us many students didn't even attend school Friday, but some parents did and they made sure the Dorchester County school board listened to their concerns.
"My goal was to ask the board what their plan was to keep our children safe," exclaims Katie Tolley, a concerned parent, who's son is a sophomore at CSD High.
What was first scheduled as a closed Dorchester County Board of Education meeting, quickly turned into an open dialogue with parents and school officials.
Dozens of parents and community members demanding answers. Answers on how their kids will be safe at school after Thursday's so-called riot happened at CSD High School.
"I think a lot of people here are concerned for their safety and a lot of parents I talked to on social media last night are not happy with the way our system is running from the top down," explains Tolley.
Concerns that members of the school board listened to and they even have themselves.
"What they said in the statements and concerns and the questions and expressions on their faces and so forth were more than justified because I felt the same way," explains Glenn Bramble, Dorchester County Board of Education President.
But many of their questions weren't met with the answers they were hoping for.
"I know the people sitting directly next to me both had questions that were not answered by anybody on the board and the board seemed to ramble on a little bit," explains Tanner Collins, a concerned citizen and recent graduate of CDS.
Bramble adding, "We can't make any comments in regards to all of the actions until we've reviewed it just like any other agency."
But some parents tell 47 ABC just opening up the dialogue is a step in the right direction.
The school board is investigating exactly what went on in the cafeteria at CSD High Thursday afternoon, but when that is complete they're hoping to provide students and parents with answers.