Much needed jetty project a big win for Smith Island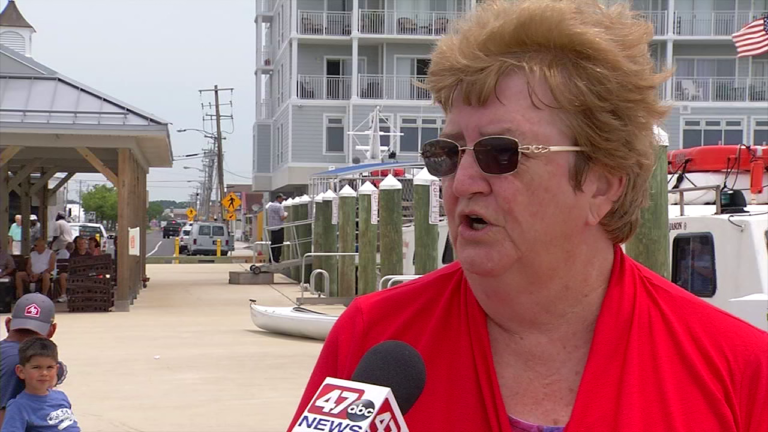 Smith Island is scheduled to get much needed helping hand from the government. The Army Corps of Engineers releasing a plan that would build jetty's among other things to help alleviate erosion problems at Rhodes Point and reduce the need for dredging.
The Army Corps released the plan for public comment Thursday, but people 47 ABC spoke with are already giving it thumbs up.
"Our dear lord had a big hand in this cause prayers has been answered, yes," said Maxine Landon, a life-long resident of Rhodes Point, a part of Smith Island.
Landon said she has been pushing for a jetty to be created for close to 40 years. She said now that there are plans in place for their creation she couldn't be more elated.
The plan in part would be to realign a portion of Sheep Pen Gut and create two jetties. The jetties would reduce the need for continual dredging, a process where sand is removed from the floor of the bay.
Landon said right now the sediment is so built up that ships cannot pass through without bottoming out.
"Our men that that have to crab can't go out that way , they have to go the whole way around the island to get out in the Chesapeake Bay and that takes a lot of fuel," Landon said. "My brother for one can't get in there to his crab house to put his pots on his wharf because there's so much sand there he can't get in there."
Extra fuel means more money. Money that is not flowing for an area surrounded by water. Smith Island sits almost square in the mouth of the Chesapeake Bay. The East side of the island is bordered by the Tangier Sound and the west side, where Rhodes Point is, borders by the Bay.
If the Army Corps of Engineers are successful with their plan Capt. Larry Laird of the Capt. Tyler 2 said it would help with access to Chesapeake from Rhodes Point and other parts on the west side of the island.
"It would help us a whole lot it would give us access to getting into the Chesapeake Bay a lot easier and quicker," Laird said. "The waterman that go out everyday, it'd make it a whole lot easier and a whole lot smoother for them."
Eddie Somers, president of Smith Island United said because of the vast stretch of water between Rhodes Point and the western shore of Maryland, Rhodes Point has faced bigger waves that have caused erosion.
Somers said they jetty's will be a tremendous help to that problem.
"It's huge I mean that part of the island was eroding terribly and it also sends the signal that we are going to be here and that government is invested in Smith Island," Somers said.
The public comment period will last until July 7. Comments can be submitted online by emailing CENAB-CC@usace.army.mil Comments can also be sent by mail. More information on the project can be found at http://www.nab.usace.army.mil/Missions/Civil-Works/cap/RhodesPoint/