45-millionth passenger on Cape May-Lewes Ferry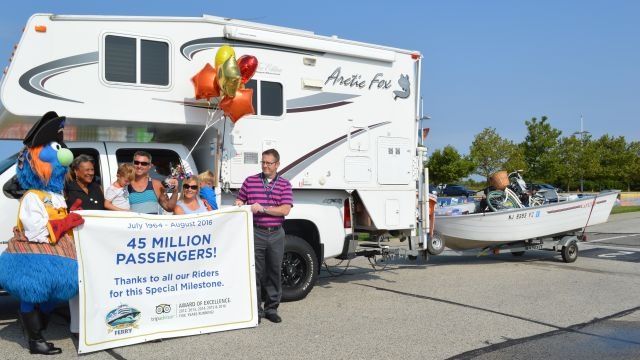 At approximately 9:50 AM on Tuesday, the Cape May – Lewes Ferry says they registered its 45 millionth passenger at the Cape May Ferry Terminal.
Marcus and Jill Villecco of Jackson, New Jersey purchased a ticket for the 10:30 AM departure bound for Lewes, Delaware.
Mr. and Mrs. Villecco, with sons, Boe and Vince were traveling to Delaware with three other camping families for a vacation to Trap Pond State Park and then Assateague Island, Maryland. The Villecco family apparently uses the ferry service annually for this family vacation tradition.  
For more than fifty years, the Cape May – Lewes Ferry has offered continuous service for residents and visitors alike between the Cape May, New Jersey and Lewes, Delaware resort regions. In addition to 45 million passengers, the popular ferry service has reportedly transported more than 14 million vehicles in its history.  
On July 1, 1964, the first ferry vessel departed the Lewes terminal at 6:47 AM, carrying eight vehicles and fifteen passengers. Since its begining, the Cape May – Lewes Ferry has been integral to the development of the Twin Capes region.