Local barber gives back in a huge way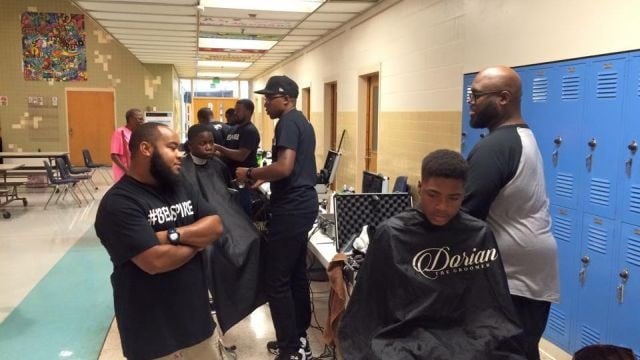 As the school year starts parents say the last thing on the checklist is getting that back to school haircut, luckily for those within driving distance of Berlin, Md.  local master barber Dorian Purnell has that covered for free.
Saturday Purnell turned the cafeteria at Berlin Intermediate School into a barber shop, inviting kids in kindergarten through eighth grade to get a free haircut. Purnell also gave away school supplies and had a local DJ come in to add music to the event.
"That just puts a smile on my face to see these kids walk out with a smile on theirs," Purnell said.  
Purnell has been giving free back to school haircuts for 4 years now and giving away school supplies at the events for the past three.    
This year Purnell even went a step above and gave away a free laptop to one lucky raffle winner.
In order to help give away so many supplies he contacted a friend,Patrick "Big Pat" Doughty, public announcer for the Charlotte Hornets,  who got the NBA team to donate supplies.
"(Purnell) asked me would I help out with the kids and I said sure why not, of course. So I sent away to our organization and got some goodies to give away to the kids for back to school," Doughty said.
According to Purnell, when he first started the event in 2011 he gave haircuts to 45 kids hair all by himself. This year he's set his goal at 200 kids and enlisted some of his fellow barbers from Pennsylvania and across the bay bridge to help to get to that goal.
"For him to be able to pull this many guys that shows the type of character that he has, shows how personable he is and what he means to this particular community. So I had no choice but to come out and support man, it's just great," said Darrly Fountain, a barber from Glen Burnie, Md.
Purnell says that looking good on the first day of school starts with a good haircut. According to the kids 47 ABC talked to at the event, Purnell and his friends have that covered.