Seven charged after three month investigation in Salisbury leads to stolen City property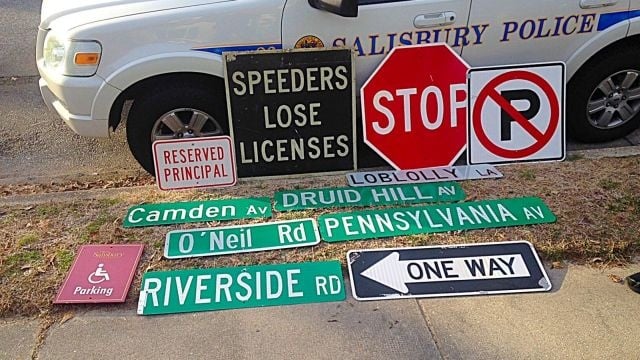 Authorities in Salisbury have recovered several pieces of property that were stolen from the city.
Salisbury Police say since November, Officers have responded to 429 Druid Hill Avenue, six times, and have received many complaints from neighbors about suspicious people, and loud parties. Over the last three months, Police say they have been investigating the residence, and on Thursday, they searched the home.
According to the report, investigating Officers found an undisclosed amount of marijuana, various traffic and regulatory signs that had been stolen, and that eight unrelated people were living in the rental home, a violation of the City's occupancy law. Police say the investigation is still on-going, and they will be charging seven of the eight residents with controlled dangerous substance violations and theft related charges.
According to the Salisbury Mayor, Jim Ireton, Salisbury Police have been called to the property five times for controlled dangerous substance, twice for prowler, six times for loud parties, and once for a suspicious vehicle, all since November of 2012. The property owner was issued an order to reduce the occupancy of the home as four were permitted, but eight were apparently found living inside.
The Mayor says he believes there is still more to be done when it comes to Salisbury's housing laws, and is asking for the City Council's help in passing more legislation to combat the alleged issue.
"I will ask the Council President to place a discussion on the table regarding making the University zoned areas of our city the only place that college rentals like this would be legal. We have the capacity to place all our student rentals in an area where they can more easily be provided services from SU and from City agencies." said Mayor Ireton "429 Druid Hill Avenue is a classic example of the fact that Salisbury has still not gotten its housing codes right, and that single-family neighborhoods continue to be degraded by those who make millions of dollars a year off of rental properties."
Anyone with information about this situation is asked to contact Salisbury Police Department at 410-548-3165 or Crime Solvers 410-548-1776.
A second reading of the legislation will happen on Monday, February 23rd, at 6:00 PM, in Council chambers. The public is welcome to attend.