The Sun Officially Reaches its Earliest Set Time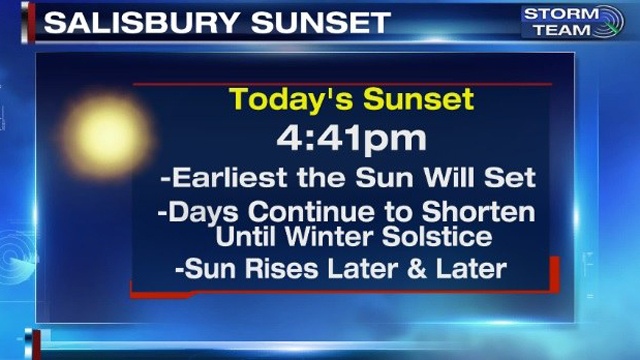 Ever since we changed our clocks back an hour when Daylight Saving Time ended, the sun has been setting earlier and earlier each evening, or should I say each afternoon because it starts to get dark shortly after 4pm now.
Currently the sun officially sets at 4:41pm in Salisbury and that is the earliest it will set all year. The sun will stop setting earlier each evening and actually continue to set at 4:41pm for the next couple of weeks until we approach the winter solstice on December 21st. It's at that time when the days will start to get longer and the sun will set later.
Even though it will no longer get darker earlier and earlier, the days are still getting shorter, and the amount of daylight will continue to decrease. How is that possible? Well, the reason is the sunrise. The sun currently rises at 7:04am, but by tomorrow it will be at 7:05am. So the sun will rise later and later each morning until we reach a little past the solstice when the sun will slowly start to rise earlier.
So the good news is that the sunset will stay the same for the next couple weeks and we don't have to worry about it getting even darker earlier in the afternoon, but the sun will continue to rise later, so the early birds like myself will have to wait longer for the sun to rise.
As of today we only see about 9 hours and 39 minutes of daylight, that means there's a whole 14 hours and 21 minutes of darkness.