Economists Weigh In On 2015 Economic Forecast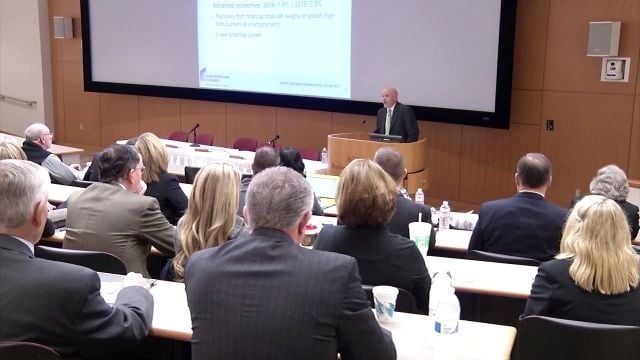 Regional economists and business leaders are remaining optimistic but uncertain about economic growth on the Eastern Shore, predicted for the year 2015 .
Experts say there may be a slight pick-up, but it's not a significant amount.
Andrew Bauer is the Senior Regional Economist at the First Federal Reserve Bank of Richmond.
"In terms of underlying growth in the economy, it's likely the pick-up next year isn't going to be as much as we would like it to be." Explains Bauer.
The recession lasting from 2007 to 2009 is considered by many to be one of the worst economic downturns since the Great Depression. According to Bauer, it's been a slow recovery.
"Because of the weakness of this recovery and expansion, one of the things is you've seen less business formation." Says Bauer. "Within Maryland, it's still less than what it was prior to the recession and for the lower Eastern Shore, it fell off tremendously and has been flat ever since."
It's not all bad news.
According to Anthony Roth, the Chief Investment Officer of Wilmington Trust, a slower recovery means the chances of another recession anytime soon is low. In terms of job growth, he says he expects participation rates to increase which means more people employed or searching for work.
In turn, the overall unemployment rate could also see an increase.
"But that's not necessarily a bad thing, because if the unemployment rate is increasing because we're bringing more workers into the system looking for jobs, that gives employers a greater choice of talent when they're trying to fill those positions." Explains Roth.
Katarina Ennerfelt, President of the Toroid Corporation in Salisbury, says that may be the key to keeping quality workers in the work force, but she believes training is necessary in order to properly prepare young workers.
"We need to start to train for the jobs not just today, but for tomorrow. We need to make very sure that we don't train for the jobs that was actually last week's jobs." Says Ennerfelt.
Experts say even though they don't expect major growth next year, small cities like Salisbury do have long-term potential. Compared to other small cities, Salisbury falls smack dab in the middle. It's ranked 125 out of 250 in job growth.
You can view presentations both Bauer and Roth from the 27th Annual Economic Forecast.