UPDATE: Police identify suspect wanted for vehicle theft, burglary in Ocean Pines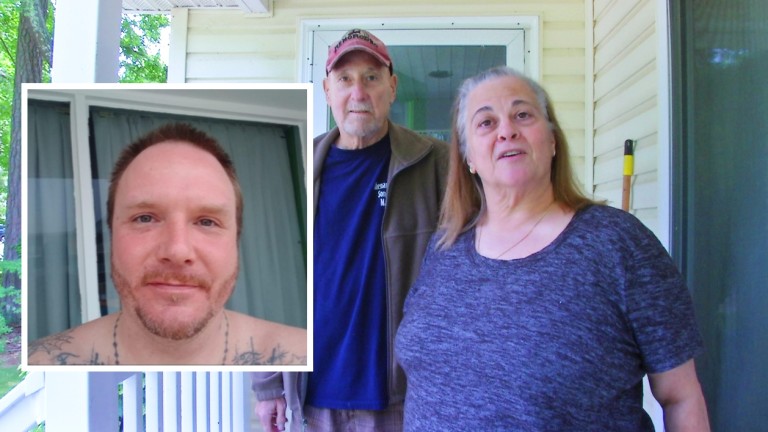 OCEAN PINES, Md. – Ocean Pines Police have identified the suspect wanted on felony theft and burglary charges after he allegedly showed up on the doorstep of a couple's home and schemed his way into stealing their vehicle.
Last week, a knock at the door turned into a nightmare for Kathy and Alan Funkhouser of Ocean Pines after a strange man showed up at their door on the morning of Thursday, June 23 and schemed his way into stealing their vehicle.
The suspect has now been identified as 40-year-old Mark Allen Meekins, according to Sgt. Joe Bailey with the Ocean Pines Police Department. Police have no known current address for him at this time, and he is believed to be homeless.
Meekins reportedly showed up to the Funkhouser's home on Tail of the Fox Lane around 10:45 that morning asking for a phone charger. Sympathizing with Meekins, the Funkhouser's went to look for a phone charger in their back bedroom and that's when Meekins allegedly let himself inside and stole their car keys.
"Alan stepped to the back to get our charger and apparently, while we were both out of this room, this guy just very quietly opened the storm door, took two steps into the house, looked around to see what he could grab, and he happened to see our big pile of keys on this old desk," Kathy told us as she peered outside the front door to her home, still amazed that both her and husband were the victims of such a theft.
It was at that point that Meekins left the Funkhouser's home, not acting nervous at all according to the couple, and later realizing that he had their car keys which led to him reportedly stealing their vehicle right out of their driveway.
Prior to that incident, Sgt. Bailey tells us Meekins targeted another home on the same street that same day where he allegedly stole a number of tools. He then reportedly took those tools to a local pawn shop, according to police. Currently, detectives are trying to locate the Funkhouser's vehicle and are investigating whether or not Meekins drove their car to the pawn shop or not.
Both Kathy and Alan remain upset over the ordeal and had some choice words for Meekins.
"I hope you're caught and I hope you get put away for a long, long time, and that you don't do this to anyone else," Kathy stressed. "You certainly changed our attitude about being helpful to strangers, and next time somebody comes to the door, I'm locking them outside."
Alan said he wants his car back and told Meekins he better not see him again, or else.
"Gimme my car back," Alan said emphatically. "You better hope I never see you again."
The Funkhouser's vehicle is a red, older model Subaru Forester with a distinct seashell sticker in the back window of the vehicle.
Meekins' whereabouts remain unknown at this time. Warrants have been issued for his arrest on two counts of 1st degree burglary, theft, and unlawful taking of a motor vehicle. Anyone with any information is urged to contact Ocean Pines Police at (410) 641-7747.