Delaware GOP candidates had campaign signs vandalized in Sussex County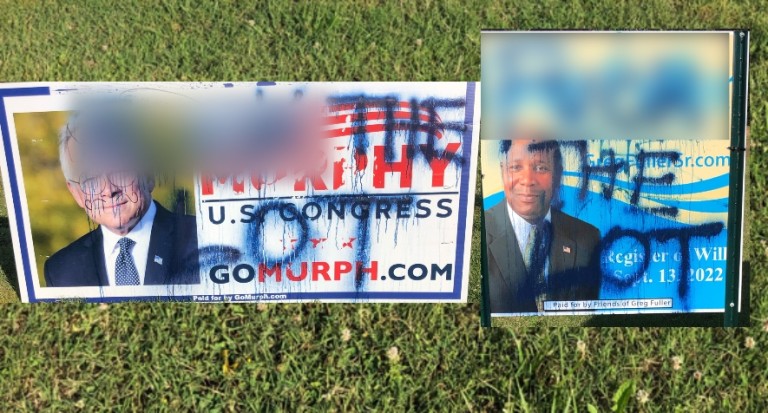 CLARKSVILLE, Del. – Delaware Republican candidate for Congress, Lee Murphy and Sussex County Register of Wills candidate, Greg Fuller had their political campaign signs vandalized over the weekend in Clarksville, Delaware.
The signs, one each for both candidates, were located at the corner of Route 26 and Irons Lane in Clarksville, a small unincorporated town located just west of Millville. Supporters of both campaigns were shocked and appalled to learn that sometime over the weekend the signs were vandalized with blue spray-paint that read "F*** THE LOT ."
Murphy's sign was also drawn on to display horns etched on the top of his forehead along with a mustache and a bubble message that read "give me your money chumps."
47 ABC was able to sit down with Murphy who reacted to the vulgar display and vandalism of his campaign sign, saying "I only wish that we could get back to a civil society."
"It's election time, it's election season, now we don't know what individual did this, and obviously it's someone that really has a problem with Lee Murphy," Murphy stated. "I only wish that we could get back to a civil society where people, anybody, can call me up and talk to me about any issue whatsoever and I'd be happy to talk with anyone, but the vandalism and outright destruction of property is unacceptable."
Our news department reached out to Greg Fuller and left a message, and we have yet to receive a response. His sign was also vandalized with blue spray-paint that also read "F*** THE LOT."
Murphy on the other hand vowed to replace his vandalized sign which he said cost a lot of money.
"These signs do cost a lot of money, so if people want to donate to my campaign please go to gomurph.com," Murphy said. "We're going to replace those signs."
Murphy went on to suggest that perhaps the person responsible for the vandalism was motivated by the recent overturning of Roe V. Wade.
"I don't know for sure but it's possible that the motivation for the vandalism was the recent Supreme Court decision on Roe V. Wade," Murphy stated. "That decision was just in returning these decisions to the state's, where it belongs. Delaware is currently a pro abortion state. If this is something that disturbs you it's time to elect people to the state house and to US Congress who share your views. Speak up. Vote. Elections matter."
47 ABC has reached out to Delaware State Police who are looking into the incident.