Farm organizations calling out lawmakers for COVID tracking reports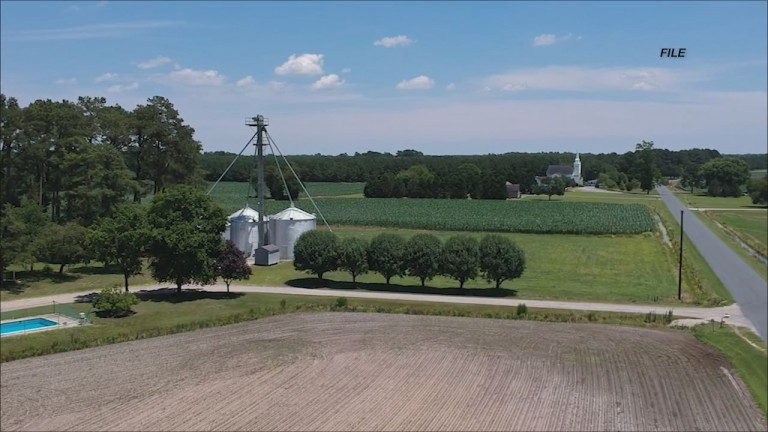 MARYLAND – Maryland farm organizations are calling out legislators to address the lack of tracking COVID cases for poultry, migrant, and seasonal farm and food workers.
The Clean Water Action organization tells me that the issue isn't just about COVID-19, rather if there is another infectious disease outbreak this could get worse.
"This is really about good public health," says Emily Ranson.
Emily Ranson with Clean Water Action says the poultry and farm industries have been a hot spot for COVID-19 infections which is creating a larger problem.
"Is that effective data collection for health issues is a really effective epidemiological tool to being able to effectively target intervention 1.20 before there is a problem," says Emily Ranson.
Farm organizations alongside the Clean Water Action organization are calling out lawmakers to make change. Delegate Wayne Hartman says that the issue may be within protocol after finding out about a confirmed COVID case.
"Employers if there's any type of outbreak, they should be reaching out to the health department for guidance and a lot of the problem is because the housing situation some of the seasonal workers are In are people that are working together are living together and when there is an outbreak it exacerbates the problem," says Delegate Wayne Hartman.
As the COVID 19 pandemic continues Ranson says that she wants change but it has to be done the right way.
"We really wanna see that workgroup move forward but also make sure that it is public, make sure the right experts are being included to make sure that we are addressing this issue in the most efficient way moving forward," says Emily Ranson.
Though Delegate Hartman will reach out to state and county health departments with these concerns, he says workers should use existing resources.
"A lot of things in place already, I don't know that we need to reinvent anything, I think we all need to remain vigilant in the standard practices that have been in place in the past and get help from the employers making the health departments aware," says Delegate Hartman.
The Clean Water Action iorganization is also calling out the Maryland Public Health Modernization Workgroup. I reached out to the Maryland Department of Public Health and they tell me that farm organization advocates are engaged in misinformation that is dangerous in public health and that MDH has steadily been prioritizing vulnerable populations.
MDH provided this statement:
"Unfortunately, these advocates are engaged in the kind of misinformation that is dangerous in public health. The Maryland Department of Health (MDH) has steadily been prioritizing vulnerable populations since the very beginning of the COVID-19 pandemic in our nationally recognized response.
MDH has worked with local health departments, businesses, including the agriculture and seafood industries, and communities to ensure that COVID-19 testing, vaccination, and other response efforts have been available and are accessible. Any Marylander, or visitor, may visit one of the state-sponsored COVID-19 PCR testing sites and the hundreds of covid-testing sites available at covidtest.maryland.gov. In addition, rapid COVID-19 test kits are available to any Marylander at hundreds of locations across the state, including public libraries and community centers.
Maryland is one of the most vaccinated states in the country, and maintaining that immunity by getting boosted enables Marylanders to learn to live with the virus. We encourage every eligible Marylander to get vaccinated and boosted as soon as possible – safe and effective vaccines are available at hundreds of sites at covidvax.maryland.gov.
In addition, Maryland has been nationally recognized for our equity efforts – we have information and conducted outreach efforts with both the Spanish and Haitian Creole speaking communities, and through the efforts of our Medicaid and National Guard vaccination efforts, we have some of the highest minority vaccination rates in the nation.
MDH and each local health department closely monitor COVID-19 outbreaks, as reported by laboratories and Marylanders, and work with individuals to ensure that they have access to readily available COVID-19 therapeutics and other medical help as indicated."
The Delmarva Chicken Association says:
"The chicken community on Delmarva acted quickly in 2020 to prevent the spread of COVID-19 among chicken company employees and family farmers who raise chicken, and continues to protect its workforce today. Safety protocols adapted by processing plants included physical distancing, personal protective equipment, plexiglass barriers, temperature checks for everyone entering the plants, handwashing and sanitizing stations, signage in multiple languages (including Haitian Creole and Spanish), dividers in break rooms, sanitation-dedicated work shifts and on-site nurses. Processing plants adopted these measures well before they were common in other workplaces. One of Delmarva's chicken companies, Tyson, was among the very first large U.S. employers to put in place an employee COVID-19 vaccine requirement, and all Delmarva chicken companies have encouraged and facilitated vaccination campaigns. Worker safety is integral to the chicken industry, and the incidence of occupational injuries and illnesses within the poultry sector's slaughter and processing workforce fell below incidence rates for all manufacturing jobs in 2019."