James M. Bennett student arrested after bringing loaded gun on campus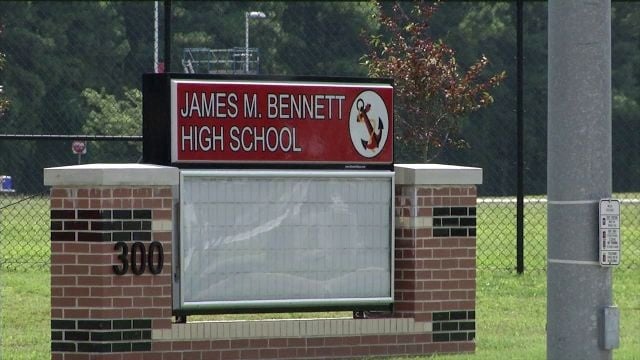 4 p.m. UPDATE: The Wicomico County Sheriff's Office has released more information.
We're told at around 12:40 p.m. Tuesday, Board of Education staff and School Resource Deputies learned of a video circulating on social media that showed a student armed with a pistol at James M. Bennett High. The student in the video was quickly identified, located, and removed from a classroom, and was found to have a loaded pistol hidden in the waistband of his pants.
Everything was cleared before 1 p.m.
A Juvenile Referral with the request for charges was forwarded to the Department of Juvenile Services. We're told the 14-year-old has been charged with wear/carry a handgun, handgun on school grounds, disruption of a learning environment, and reckless endangerment.
———————————————————————————————————————————————————————————————————————-
3:40 p.m. UPDATE: Wicomico County Public Schools has released the following statement regarding this incident:
"This afternoon the administration at James M. Bennett High School was made aware of a video of a student possessing a weapon in school. The JMB administration, School Resource Officer, and local law enforcement responded immediately to investigate the threat as the school was put in safe in place mode.
The student was taken into custody by law enforcement, and normal operations resumed at James M. Bennett. The investigation into the incident is continuing.
The safety of students and staff is our number one priority and we remind students and staff that if they "See Something, to Say Something " right away.
We want to thank the JMB administration, our district safety team, Wicomico Sheriff's Department, and Salisbury City Police for their quick actions in this case."
———————————————————————————————————————————————————————————————————————-
SALISBURY, Md. – 47 ABC has confirmed that a 14-year-old James M. Bennett High School student was arrested Tuesday after bringing a loaded gun on campus.
Wicomico County Sheriff Mike Lewis says a sheriff's deputy was notified and was able to get the situation under control quickly. No one was hurt, and we're told charges are pending for the student.
Sheriff Lewis tells 47 ABC detectives are working to confirm why the student brought the gun to school.
Details remain limited at this time. We will continue to update this story as more details are released.