Police reform advocates rally in Dover to push for Law Enforcement Officer Bill of Rights amendment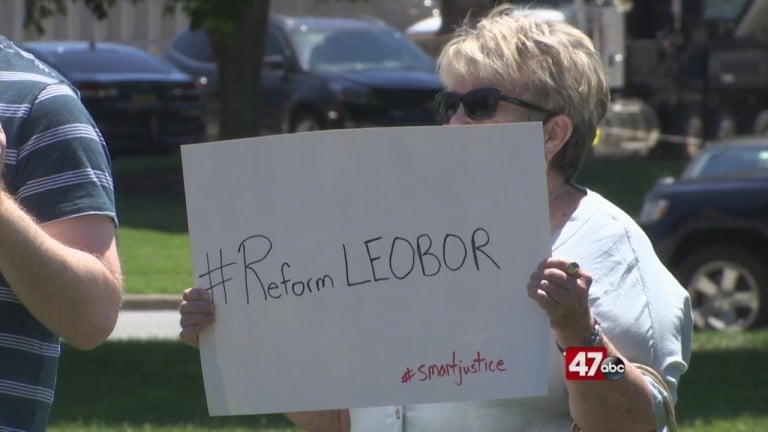 Dover, Delaware- Supporters of police reform gathered outside of Legislative Hall in Dover, Wednesday afternoon, to voice their demands that more bills under the 'Justice For All Agenda' put forward by the bi-partisan Legislative Black Caucus be enacted during the currrent legislative term.
ACLU of Delaware was one of the organizations that organized the rally, which centered on putting pressure on lawmakers to pass SB149; a bill that would reform the Law Enforcement Officers Bill Of Rights (LEOBOR) to allow for misconduct and complaints against police officers to become public information.
"We would like to have the LEOBOR ammended so that it would allow for the public to have access to police misconduct records and to allow civillian oversight bodies to exist," said ACLU of Delaware Executive Director Mike Brickner.
He said with the legislative term winding down, he wanted to show lawmakers that people were still energized about this reform.
A study published by the ACLU of Delaware found 70 perecent of Delawareans were in favor of the reform.
"We absolutely need to have the public put pressure to make these changes happen," Brickner said.
State Senator Elizabeth Lockman wrote and is the main sponor on the SB149 bill, she says the reform will bring trust and accoutability between police and the communities they serve.
"This would create transparency around records, disciplinary records of law enforcment officers for access by defense council, public and the media," she said.
She believes making the record public paves the way for civillian review boards that would oversee the conduct of police officers in addition to internal police disciplinary measures.
"While a civillian review board may not bring that law enforcement expertise,they certainly bring the expereince of how their community is engage with by their officers," she said.
Critics of the bill, including State House Representative Steve Smyk, say that the language of the bill may actually inhibit police officers from being able to serve their community.
Rep. Smyk told 47ABC that while he supports acountability for police officers, he wants the reforms to hold up to legal scrutiny, and be pratical for departments to implement.
"If  you do have any types of these reforms, you want to make sure it is something that the courts would recognize and something that can be achieved reasonably," he said.
Rep. Smick believes that complaint forms should not autmatically become public, as he believes many complaints filed against officers are not done in good faith, but rather by those wishing to "improve their standings in criminal proceedings or simply as retribution for an arrest," he said.
"I believe we should be sharing with the public all complaints filed against police officers once those allegations have been investigated and verified," Rep. Smyk said.
Sen. Lockman says that despite that criticism, the bill is nearly at the finish line.
"I've heard across the board the LEOBOR needs to be amended and I think we are on the verge of getting that done," she said.
Lockman told 47ABC that if the bill does not pass this legislative session, it will be one of the first measures she plans to re-introduce in January of 2022.