Phase 3 begins on restoration of Fire Tower #3 in Dewey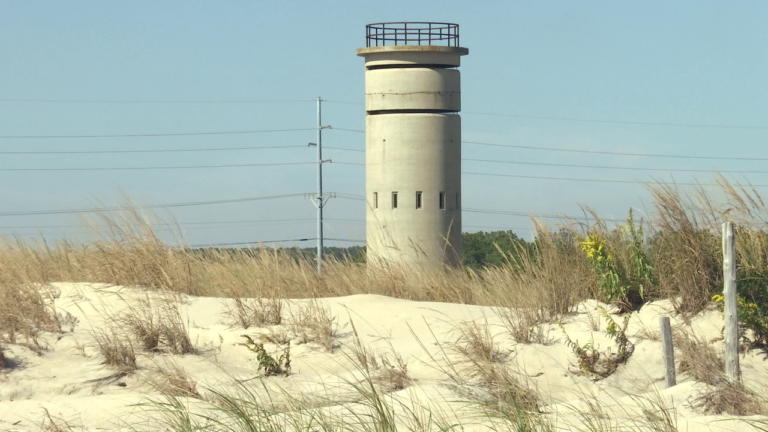 DEWEY BEACH, Del. – On Tuesday, the third phase of restoration on Fire Control Tower #3 in Dewey Beach kicked off.
Several things will be accomplished in this third phase. First, work will be done to fix up some of the concrete on the tower.
Larry Brown with the Delaware Seashore Preservation Foundation said, "After the tower was built in 1942, some of the concrete and the corrosion into the rebar started to cause some damage on the exterior."
Next, a new door will be added to the tower since the existing one is a little small.
Brown explained, "In the 1962 storm, the over wash from the beach deposited [sand] from the entrance [into the tower]. The base of the tower is actually two feet below grade right now."
After a new door is put in, crews will take away bricks, and put in windows.
Brown said, "We will be putting the windows back in that will match the original windows that were here."
In phase three, crews will also temporarily take away the cobalt blue lights outside the tower, excavate the tower base, construct ramps to the entrance of the tower, run full electrical service into the tower, finalize project design and complete detailed engineering documents.
To get all of this done, organizers are relying on the generous donations of others.
Dr. Gary Wray, the President of the Fort Miles Historical Association said, "We have two thirds of the money raised for this effort."
The project is costing a total of $1 million. We're told only about $300,000 more needs to be raised so they can get this project done in a timely fashion.
Brown said, "So over the next two to three years we are hopeful we can raise the remaining funds to complete the project."
The overall goal with the restoration of Fire Control Tower #3 is to give Delawareans something to marvel at.
Dr. Wray said, "Our goal is to get to the top of the tower so you can see from almost 70 feet in the air what the Delaware Bay and the beautiful Atlantic ocean look like from one of Delaware's iconic world war II towers."
The next phases of restoration will involve the construction of a spiral staircase, and the construction of a roof-top observation deck.
If you would like to donate to this project or learn more about it, you can visit restorethetower.org