Tropical Storm Watches & Warnings Posted Ahead of Dorian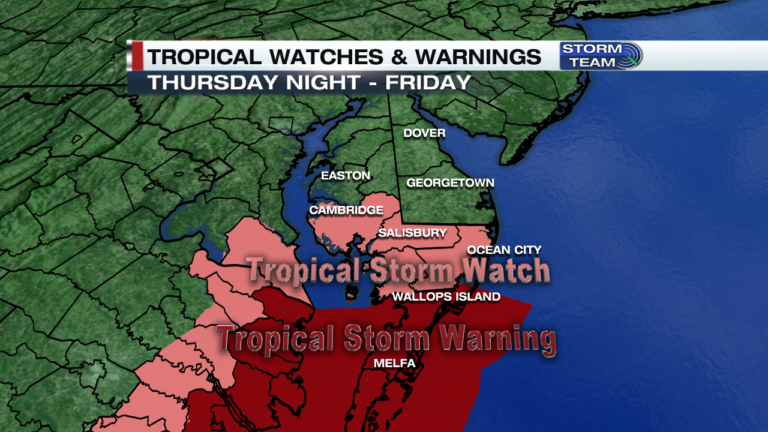 Clouds from Hurricane Dorian are already pushing onto Delmarva, and the storm is still down off the coast of Florida and Georgia. You can see from the satellite image below where Dorian is located and how far north the clouds extend. I've also attached a Skycam of Edisto Beach in South Carolina showing the weather conditions going down hill as Dorian lifts north. The beach is slowly disappearing as the rough waters crash onshore and approach the beach houses.
Dorian is a category 2 hurricane with winds of 110 mph and gusts to 130 mph. It's expected to climb the coast, eventually reaching just off Delmarva's coast on Friday, still as a category 2 hurricane. Luckily, the worst of the storm will stay offshore because a cold front will be pushing in, helping to sweep it out to sea. Here's the latest path from the National Hurricane Center.
It does appear that the storm will come close enough to bring some tropical storm conditions to parts of the area, especially south and east of Salisbury. Right now Dorchester, Wicomico, Worcester, and Somerset counties are under a Tropical Storm Watch for the potential of tropical storm force winds (greater than 39 mph) within the next 36-48 hours. A Tropical Storm Warning is now in effect for Accomack and Northampton counties in Virginia, meaning tropical storm force conditions are likely within 24-36 hours. The eastern shore of Virginia and Maryland will see the strongest winds and heaviest rain. Here's a look at expected rainfall totals and wind gusts Thursday night – Friday.
There is a chance we could see more rain than predicted, especially if the storm tracks farther to the west. If that happens, the higher wind gusts may push farther inland as well. That is likely why the National Weather Service issued Tropical Storm Watches for inland counties, just to be on the safe side. Right now our forecast calls for up to an inch of rain in Salisbury, with more south, and less north.
Rainfall won't be the main threat with this storm. It will be the Marine impacts, which is the minor to moderate coastal flooding we're expecting, plus gusty winds at the coast. A Coastal Flood Watch has been posted to prepare low lying areas for this coastal flooding. Expect 1-2 feet of inundation above ground level for these areas.
The storm quickly exits Friday night, which will lead to a pretty nice weekend with mostly sunny skies and lower humidity.
BIG TAKEAWAY: Just prepare for some rain and wind Thursday night and Friday, plus minor to moderate coastal flooding. This isn't something to panic over, but take the proper precautions to protect yourself, family, and property if your area is prone to flooding or wind damage. This storm is a fast mover and most computer models keep the worst of the storm offshore. Some models don't even bring much rain or wind for inland areas, so stay tuned.