Learning what it takes to be an Ocean City seasonal police officer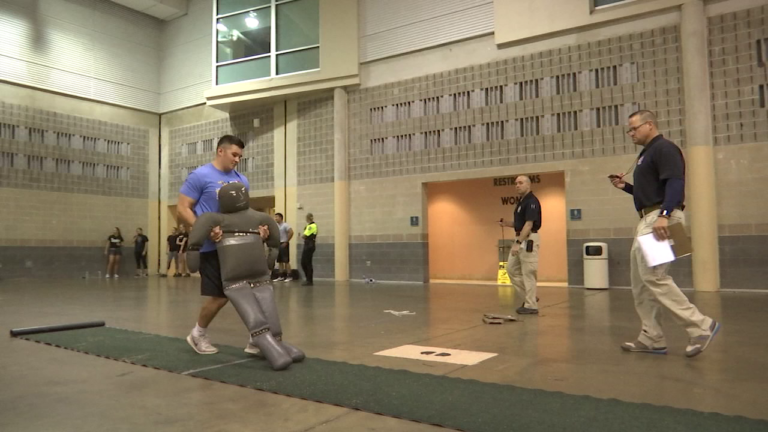 It's no secret that it's hard for police departments across the country to find good, qualified officers. In Ocean City, they have the challenge of filling almost 80 seasonal positions each summer.
On Wednesday, recruits from all over the East Coast completed mental and physical challenges, in the hopes of becoming seasonal police officers in 2019.
Tyler Sheehy, a candidate said, "I think it takes a lot of integrity more than discipline."
Claire Wherthy, another candidate said, "Definitely a lot of physical ability and integrity, and just a lot of drive to succeed and help everyone in the community, it's definitely a big role."
Through a written exam Wednesday, candidates learned that in order to be a police officer in Ocean City, you have to be sharp.
Sheehy said, "They'll give you scenario questions, say a theft, and you got to add up all the items that have been stolen and what the total value is, or divide what the average value of the item would be, stuff like that."
On top of that, you've got to be strong both mentally and physically.
Sheehy said, "Honestly, it was more mentally than physically just because you hear 220 yard shuttle run and you're like, oh! It's not bad, but then you get there and you're looking at the cones down and back and you're like alright, it's a little bit farther than I think it is."
As part of the physical testing on Wednesday, candidates had to pick up a 150 pound dummy, and drag it across a resistant surface, which is no easy task.
These challenges are designed to weed out those not fit to be a police officer, but the Ocean City Police Department says they still have a lot of slots to fill.
Barry Neeb, the Recruiting and Training Specialist with the Ocean City Police Department said, "We'd like to hire at least 75. In this day and age, in this social climate we're in, sometimes it is difficult to find people that want to still be police officers."
For those candidates who passed all of the physical and mental exams Wednesday, they will be back on Thursday for a job interview, getting one step closer to becoming a seasonal police officer.
If you're interested in becoming an Ocean City police officer, you still have plenty of chances to join the team.
The police department will be testing candidates once in November, once in December, twice in January and once in February.
For the exact dates and more information on what the tests are like, you can visit joinocpd.com