Unsolved: Katina Ballard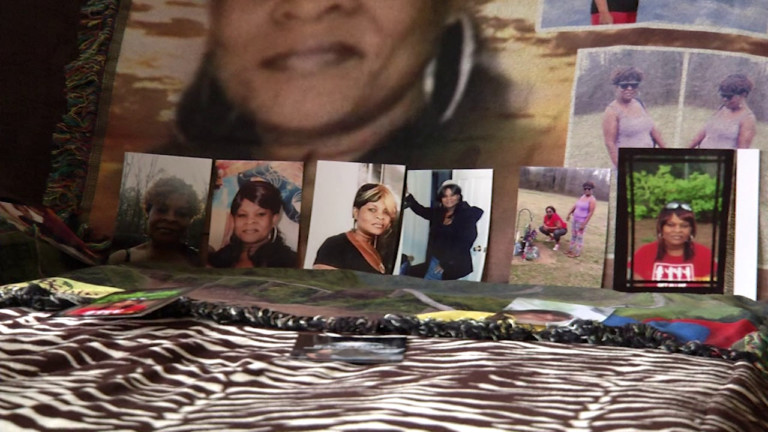 As the tears fall, the memories fade and the case grows cold. The pain of losing Katina Ballard is overwhelming. The void left by this 44-year-old mother of 3, grandmother of 7, is one that can never be filled.
"She always told me she loved me. So that's something I'll never forget," said David Ayres, Katina's step father.
She was boisterous, fun-loving, kind-hearted and a big piece of a family's puzzle.
"My sister wasn't a bad person at all. She was a people's person, very outspoken," said Myretta Ayres, Katina's sister.
Sadly, Katina's personality, her life, even her children are often forgotten when her name comes up at coffee shops around Salisbury. And that, unfortunately, has a lot to do with how she died. And how her life abruptly ended on the pavement of Naylor Mill Road.
"To just hit somebody and leave 'em. I mean to me that's one of the worst things that can happen," said David Ayres.
It happened near North Gate Drive around 1:42 in the morning on March 17th, St. Patrick's Day, that tragedy struck.
"Without a doubt this is a motor vehicle accident. There is no intent to hit Katina, we believe, at this time. None of the evidence leads us to believe that. It's an accident," said Captain Rich Kaiser, with Salisbury Police Department's Criminal Investigations.
For Detective Rich Kaiser and the Criminal Investigations Unit at the Salisbury Police Department, the trail has gone cold.
"Our leads are slowly drying up at this point in time. To be quite honest with you, we need family members, friends that knows this happened to come forward for the respect and dignity of Katina's family," said Cpt. Kaiser.
All they have so far is grainy surveillance footage from a Delmarva Power facility across the street. It appears to show the moment the vehicle abruptly stopped and investigators say that's the moment the vehicle hit Katina as she walked down the middle of the road. It also shows the moments after, when the driver circled back around and took off before someone else stopped to help.
"We believe that the vehicle was traveling likely above the posted speed limit, based on where the victim was located, where the victim was struck and the injuries that the victim sustained," said Cpt. Kaiser.
Detective Kaiser says members of the Maryland State Police also gathered white paint chips and vehicle fragments that could be critical to their investigation.
"If that was you or a friend of yours, a family member of yours, you would know if someone had unnecessary repairs to their vehicle or they sold it quickly or decided they were going to paint it for some odd reason. That is stuff that we need to know and we need to talk to that person about," said Cpt. Kaiser.
Investigators also know that Katina had spent time at a bar along Route 13 and was likely headed home to Jersey Road. It's a more than 2 mile walk and a dangerous trek at 1:30 in the morning.
"We do not believe that there was any kind of trouble following her. We don't believe she was targeted in any way. She's simply a pedestrian that happened to be in the roadway at the wrong time and was struck," said Cpt. Kaiser.
"I just don't understand walking in the middle of the road or if she was trying to cross that road – I don't know," said David Ayres. "Detectives said she had alcohol but I don't think she did. I mean if they seen her, whoever did it, I mean it could've been intoxicated or on dope or whatever. It could've been the same thing."
Just like Katina's step father David Ayres, investigators don't want to talk about what Katina had done in the hours leading up to the tragedy. They just want to talk about the accident and find the person responsible.
"What happened? Why did you leave? Why didn't you come back? That's what we wanna figure out," said Cpt. Kaiser. "C'mon in and talk to us. It's not the end of the world. You can sit down and talk to detectives. And we can figure out what happened and we can push forward from there."
For Katina's family that meeting is long overdue. And as time passes they find themselves wondering if this really was just a tragic hit and run.
Myretta Ayres said, "There's more to this story than what's being said."
David Ayres said, "They say it might've been an accident but in my heart I think it might be something different."
Could it have been an ex? An old friend? Someone from the bar? Investigators say they've exhausted those leads. But that doesn't mean that Katina's family has exhausted their creativity, their suspicions about the people they see in the community and the people Katina dealt with every day. And for what it's worth they'll keep praying, keep hoping and keep questioning until the person responsible comes forward or is brought to justice.
"If someone, the person or persons that's behind this, see this maybe they'll have a change of heart. Because we are drowning in our sorrows right now. Even though it's been 14 months it still hurts."
Investigators have ruled Katina's death as accidental, the result of a motor vehicle collision. But Captain Rich Kaiser says that the department can always change the ruling, if they gather new information that points in a different direction.
If you have any information about this case, you can call the Salisbury Police Department or Crime Solvers at 410-548-1776.