Parts of Crisfield still underwater following second Nor'Easter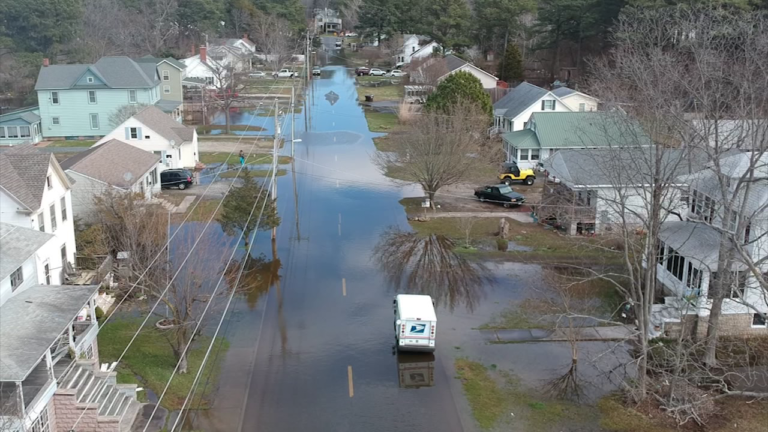 We seem to be experiencing Nor'Easter after Nor'Easter. We just can't seem to catch a break. With another storm on the way, there doesn't appear to be an end in sight.
The City of Crisfield was one of the hardest hit areas from Wednesday's Nor'Easter. 'The Crab Capitol of the World' is still recovering, more than 24 hours later.
Tyasia McCready, a Crisfield resident, said, "Our yard will probably be flooded longer than the road will be. Like all that right there will probably stay there for a couple days."
On some streets like Somerset Avenue and Cove Street, there is still water standing as high as one foot in certain areas.
Joyce Boston, a local, said, "We are underwater."
Tyrone Sterling, another Crisfield resident, added, "It's a mess, as you can see."
The deep water is making it hard for many Crisfield folks to get around.
Sterling said, "People can't pull their cars out and stuff it's just it's ridiculous how this water is."
Bonnie Parks, a longtime Crisfield resident added, "Look, I'm saying that it just makes it bad for [Joyce Boston] and I both. We have no transportation and where we walk in town, or we go, we have to go on foot unless a friend or somebody will take us."
We're told the high water creates another problem when people drive through it too quickly.
"People ride through here just doing probably 50 or 60 splashing water through your yards it's just, it's a mess," Sterling said.
Local businesses on West Main Street refused to talk on camera, but said the flooding was the worst they had seen since Hurricane Sandy.
They say the water came just inches away from flooding their businesses.
Crisfield locals say flooding continues to be an ongoing problem in their city, and they're hoping a change is made moving forward.
Sterling said, "It shouldn't be like this, I mean, whether it rains or not it's like this on this street and different other locations so."
Unfortunately, there is a potential for another Nor'easter to hit the Eastern Shore on Sunday, which could spell more trouble for Crisfield.
Times like these are a reminder of just how important it is to have flood insurance, especially if you live in a City like Crisfield.
Agents tell us that everyone qualifies for flood insurance, and it covers a wide variety of things.
For example, if the high tide floods your home, if your neighbors blowup pool gets a hole and floods into your yard, or even if rainwater builds up, it is all covered by flood insurance.
We're told the process of getting this insurance is pretty straightforward.
Jessica Ward, an Insurance Agent at Tawes said, "You could contact any insurance agent contact, ours, you could contact FEMA directly. They can tell you each house is different. What you need to get the flood insurance."
We're told once you call FEMA or your insurance agent, they can file a claim for you and then send someone out to look at the damages.
Ward believes in the future, the State of Maryland will likely require flood insurance for everyone.