Maryland first lady meets with South Korean first lady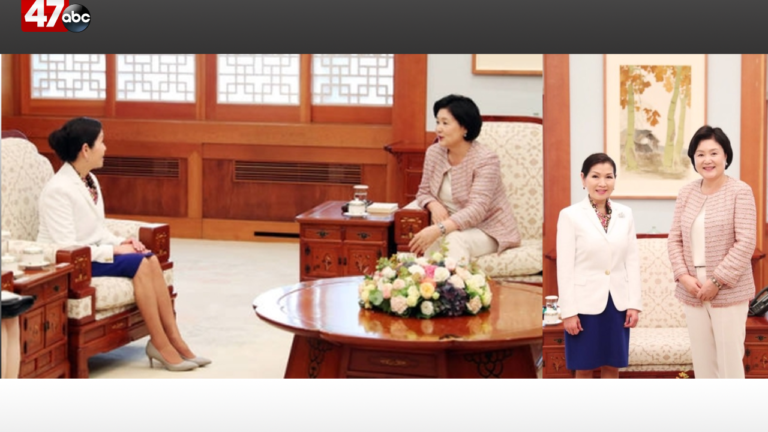 Maryland First Lady Yumi Hogan reportedly met with South Korean First Lady Kim Jung-sook at the president and first lady's official residence in Seoul, known as The Blue House on Monday.
Mrs. Hogan is visiting South Korea as a part of a trade and diplomatic mission being led by the Maryland Department of Commerce and the Maryland Secretary of State's Office.
Officials say that the mission is a follow-up to Governor Larry Hogan's 2015 trade mission to Asia, which included stops in South Korea, Japan, and China. Mrs. Hogan says, "I would like to thank First Lady Kim for the warm welcome to their home and the beautiful city of Seoul.
"Maryland has a special relationship with South Korea, and we hope to continue to work together to find ways to strengthen the already flourishing relationship between our regions."
The first ladies reportedly discussed opportunities for South Korea's new presidential administration to engage with Maryland, along with the continuing economic, cultural and educational ties between Maryland and South Korea.
Officials say that Mrs. Hogan extended the greetings of Governor Hogan and the people of Maryland, along with the leadership of Maryland's individual counties– some of whom will soon make their own visits to South Korea.
The First Lady also thanked Mrs. Kim for the invitation to visit Seoul, which was extended when she and her husband, South Korean President Moon Jae-In, visited the states in July and met with Governor and Mrs. Hogan in Washington, DC.
Mrs. Kim, a classically trained vocalist, became first lady after her husband's election in May and her upbeat and outgoing personality have earned her the nickname, "Happy Mrs. Jung-sook."