Woman injured at Punkin Chunkin files lawsuit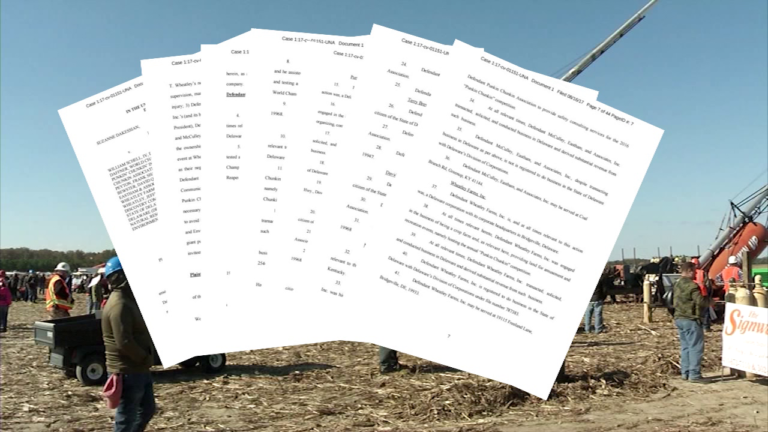 A federal lawsuit was filed by the woman who was critically injured at last year's Punkin Chunkin when an air cannon exploded.
It happened on Wednesday, 10 months after the incident.
And 47 ABC has learned that the victim sued a number of different parties, event organizers, participants, and state officials included.
The pumpkin launch that went terribly wrong during the 2016 Punkin Chunkin in November is now the source behind a 44 page federal lawsuit.
It's coming from television producer Suzanne Dakessian, who was critically injured after shrapnel from the exploded air cannon 'Pumpkin Reaper' struck her head and face.
The lawsuit, which we obtained a copy of on Thursday, targets Punkin Chunkin organizers, including event president Frank Peyton.
It also names Delaware state officials and Discovery Communications claiming negligence and wrongful conduct.
One of Dakessian's lawyers, Marc Albert, tells 47 ABC, "My client is never going to get the life she once knew back I mean this woman has permanent blindness in one of her eyes, she's got a permanent brain injury okay when you speak with her you can hear that she loses her train of thought..that she doesn't remember what she was going to say."

While the injuries were serious it doesn't entitle the victim to compensation. And a liability waiver used in 2016 for all bystanders, participants, and observers could help Punkin Chunkin and the owner of the land avoid responsibility.
To learn more about the liability waiver and the impact it could have, we spoke with a lawyer not affiliated with the event or the victim who was injured.

"In this situation, we have Dakessian whos there she doesn't do anything wrong she's just there running a camera crew and one of the air cannon explodes and causes her injury by signing that piece of paper she may have assumed the risk, she may have taken responsibility," says Ben Schwartz, of Schwartz and Schwartz.
Dakessian's lawyers can't say for certain that she did sign it, but even if she did, they believe they still have a case.
Albert adds, "We're going to have to see in the course of discovery what was and what was not signed but what I can tell you is I don't think that there is a chance on this earth that that liability waiver is enforceable under these circumstances."