Delmarva Christian student receives scholarship from Carson Scholars Fund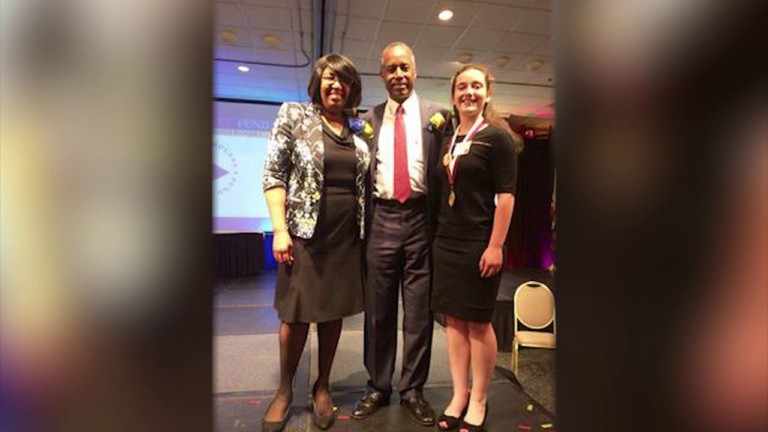 As a student, getting selected for a special scholarship can be exciting, especially if you've worked hard to get there.
But getting the scholarship plus the chance to meet Dr. Ben Carson is thrilling. Delmarva Christian High School junior Briana Taylor was selected for that very special opportunity and it was something that she didn't expect.
"It was quite the surprise," Taylor tells 47 ABC.
After being approached by two guidance counselors at school, Taylor decided to apply for the Carson Scholarship, which comes from the Carson Scholars Fund, founded by Dr. And Mrs. Ben Carson back in 1994. The goal? To encourage kids to excel in school.
A $1,000 college scholarship is awarded to kids who show humanitarian efforts and also maintain a GPA of 3.75 or higher, something that Taylor had. Taylor tells 47 ABC, "I was really excited and a little bit nervous too."
It was no small feat. She had to get teacher recommendations and also write an essay, which she based off a quote, "Your life Is like a story, the more you get into it the more it begins to make sense."
"I wrote my essay from the perspective that the reason our life begins to make more sense as we live through it is because it's written by a divine author who planned it before we lived it," Taylor said.
And her words proved worthy because she was selected out of three students in her school to receive the award. Taylor tells 47 ABC, "I felt really proud and honored to be chosen to receive something like that."
A bonus to receiving the scholarship? Getting to meet Dr. Ben Carson.
"Even though all the scholars got to meet him for a very short time, it was so cool and felt really special that he would take the time out to individually meet all of these students that he had invited to the banquet and just personally congratulate us and tell us that he was proud," Taylor said.
As far as any advice to future applicants? Taylor tells 47 ABC, "Just really share your heart in the process and make it individual to who you are because I think that's what stood out to me about all the students that I met there is that they had these amazing stories and passions that was so different from each other."
As far as her plans for the future, Taylor plans to major in intercultural studies at Quincy College in Massachusetts. She says she wants to use her passions for language and other cultures to be a foreign missionary some day.