New rules on alcohol at Punkin Chunkin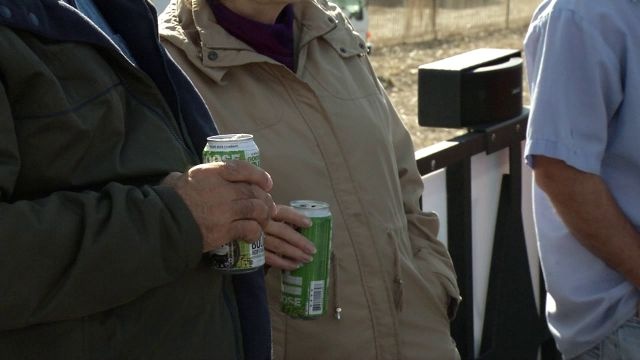 Inside the gates of a farm on Apple Tree Road, 109 teams line up and aim for the farthest shot using pumpkins and machines.
Punkin Chunkin has returned to Bridgeville after two years of hiatus, citing insurance reasons.
Friday marked day one of the three day tournament; however, several hundred feet away from the cannons and machines is the 'beer garden' which is the only place spectators can drink outside of the the tailgating and camping sections.
Rich King, IT officer with the Board of Directors for Punkin Chunkin, says safety and insurance are the reasons for the new rule.
"We are not allowing alcohol or BYOB in general spectator areas," says King. "The alcohol policy was something that we had to do because we tried to take the event and find a new location for it, the first question everybody asked us…every farmer…what are you going to do about the alcohol?"
Some long-time attendees 47ABC spoke to say they're not completely happy with the new rule, but they understand the need for it.
Meadville, Pennsylvania resident Bill Hunter says he and his wife have been attending Punkin Chunkin since 2010.
"I never saw any riff-raff when they had the open, carry in your own, and stuff," Hunter recalls. "It might keep the fields a little cleaner."
Other attendees like Frankfort, Delaware resident Dawn Zimmerman describe the environment of Punkin Chunkin under the new rules as "a ghost" of what it once was.
"It does seem there's more distance between you and the machines which is also, in my book, a detraction because you can't get up close and personal to talk to the teams," says Zimmerman. "Maybe people who are experiencing it for the first time will enjoy it in a way. I've just experienced the other way, so it makes it sad for me." 
Both sides and officials agree, it's a relief to have pumpkins fly through the skies of Sussex County once again.
"We're hoping to see a bigger crowd than normal and the general consensus we've seen online is a lot of people are coming back, and a lot of people are coming for the first time," King tells 47ABC.
The event lasts through Sunday. Gates open at 7 a.m. each morning.