Community wants Punkin Chunkin to stay but what's to come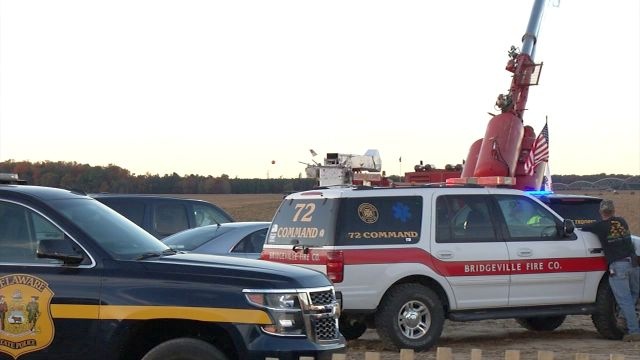 Delaware State Police Cpl. Gary Fournier tells 47 ABC that it is still an ongoing investigation but it has been deemed an industrial accident. 
This means the names of the two injured during the explosion will not be released unless Punkin Chunkin decides to release the names themselves.
Police say the 39-year-old woman remains in critical condition and although she was wearing a helmet, the impact and weight of the launch door that flew off and hit her, proved too forceful.
As for the other victim, police tell 47 ABC he has been released from the Nanticoke Memorial Hospital.
There's still no word on how the machine's launch door blew off, state police are currently working with a specialist from DNREC that investigates incidents like this to try and understand what happened.
"You know these cannons are inspected prior to them ever even shooting off any of the pumpkins before the actual event, so they're inspected, there's actually some sort of stamp of approval that's given to the machinery before they're even launched in this event," explains Cpl. Fournier.
He also tells 47 ABC that alcohol was not a factor in this incident.
That raises the question, after a two year hiatus based on safety and insurance concerns and its return tainted by the accident on what might happen next for Punkin Chunkin.
"I would really like to see it come back," says Sally Brumfield.
For the last couple years, Punkin Chunkin has been trying to bring the event back to Bridgeville after dealing with a lawsuit stemming from an incident in 2011.
Finally this year they did.
Sally Brumfield, whose backyard is part of Punkin Chunkin, said they worked tirelessly to make this event the best yet and family friendly again.
"You could tell the difference. The college kids didn't come down all intoxicated to begin with and they had more kids out here. It's just you could tell the difference between families, they wanted to have fun and watch the shows and it was a great event until till the end."
Unfortunately near the end of the event on Sunday, what Brumfield calls a freak accident occurred, putting a halt on the fun.
But this year Punkin Chunkin had a liability waiver for all bystanders, participants, and observers stating that if injury were to occur Punkin Chunkin and the owner of the land its held on are not responsible.
We spoke to a lawyer not affiliated with either Punkin Chunkin or those injured to shed some light on the liability waiver.
"So in this case when someone signs this waiver for them they're thinking if I'm driving on a four wheeler and I hit a pothole out in the field. That's the type of thing that we know is a risk at Punkin Chunkin activity," says attorney Ben Schwartz.
He says the waiver definitely helps Punkin Chunkin if a lawsuit is filed, but there is a possibility of it not holding up in court.
"Is it foreseeable that there is going to be a malfunction in shrapnels going to shoot out of a pumpkin cannon. I don't know that strikes me as a question for a jury and if you have a question for a jury you're not getting out a lawsuit you're encouraging a lawsuit," explains Schwartz.