A Punkin Chunkin explosion leaves two injured; one in critical condition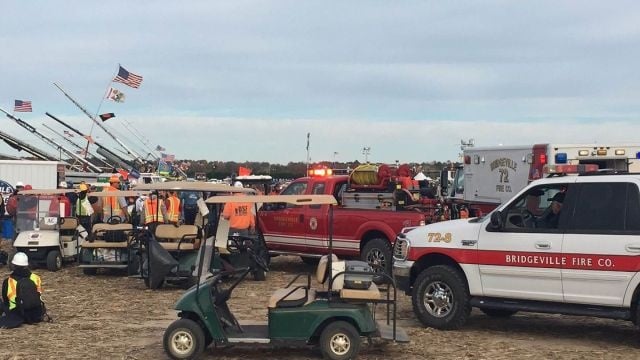 A 39-year-old woman is in critical condition after being hit in the head with an object that fell from a Punkin Chunkin machine seconds after the machine shot a pumpkin into the sky. A 56-year-old man was also hit with an object and sent to the hospital, fortunately his injuries are not believed to be critical.
After a two year hiatus crowds were excited to have the 30-year tradition back but Sunday's accident caused the event to come to a screeching hault.
"Our detectives are currently working the scene establishing any witnesses and talking to those witnesses looking at the apparatus we also have specialized units from outside the agency that are coming in to inspect the cannon and this is an active ongoing investigation," said Corporal Gary Fournier.
Investigators say it happened when  an air cannon called "Pumpkin Reaper" was preparing to launch. They say the trap door of the cannon, where the pumpkins are loaded, separated upon the launch of the pumpkin. The door and other parts were blown away from the cannon leading to Sunday's injuries. As it stands Delmarva has not seen a pumpkin fly in 2 years due to another incident incident.
A man riding a 4 wheeler fell into a ditch. He was critically injured and ended up suing. We spoke with the Science Channel that punkin chunkin was set to be aired on, they had no comment. We caught up with the events competitors to see how they felt about the day.
"We didn't get to fly today and I'm is unfortunate but safety does prevail our hopes and prayers are out for the girl that got hurt," said Brian Mclief, a Chunkin Up competitor.
Right now both the male and female are at Nanticoke Hospital.
We will update our webpage as information becomes available.