Officials are celebrating the completion of Prime Hook Road improvements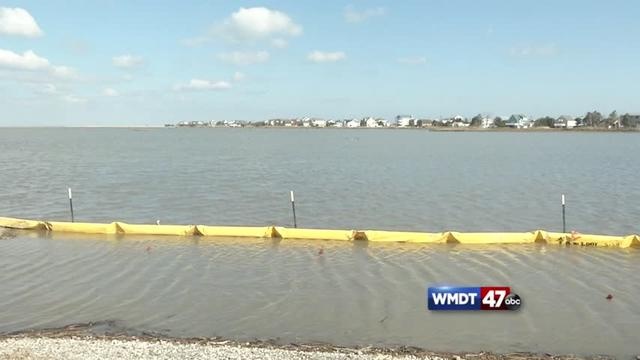 State and Federal Officials are now celebrating the completion of improvements made to Prime Hook Road.
Officials say that enhancements made to the road, including the construction of a new bridge over an improved channel, will reduce road flooding and help in the restoration of Prime Hook National Wildlife Refuge.
Delaware Governor Jack Markell said, "This new roadway will provide safer and more consistent access for local residents and visitors to the Prime Hook National Wildlife Refuge and that will improve the quality of life, particularly through better access during weather events. I'm proud of our DelDOT and DNREC staff who worked collaboratively with their federal partners to design and build this roadway, which is a critically important component of the broader effort to restore this invaluable natural ecosystem and improve the environment by lowering water levels throughout the Prime Hook marshes."
Senator Carper said, "Prime Hook Road has seen its fair share of flooding and damage, and access to the Prime Hook Community is sometimes dangerously cut off. I was happy to support a Public Lands Highway Discretionary Program grant application for DelDOT to install new culverts that would help with the flow of water alleviating flooding and helping with the long-term stabilization of the refuge."
DelDOT Secretary Cohan said, "The improvements to Prime Hook Road are the result of unprecedented cooperation between the U.S. Fish & Wildlife Service, DelDOT, DNREC, and the U.S. Army Corps of Engineers to design and build this project.  Not only has this project improved the environmental health of thousands of acres of coastal marshland. It has also addressed the flooding that often made travel to and from Prime Hook Beach difficult or impossible."
Delaware Department of Natural Resources and Environmental Control Deputy Secretary Kara Coats said, "Prime Hook Refuge is an important part of the ecologically-significant Delaware Bayshore that supports fisheries and critical habitat for migratory shorebirds, waterfowl and wading birds. The new bridge and road improvements are key components in the restoration of the tidal marsh, improving water quality and water flow through the Refuge. DNREC applauds DelDOT for this work that will not only help to stabilize refuge habitat, but includes a wonderful pedestrian walkway where hikers and birders can view some of the Bayshore's most spectacular scenery."
Officials say that this project cost about $1.4 million, and was built with a combination of state and federal dollars.
Zack Excavating of Smyrna is the company that built a new 70-foot bridge to allow water to pass more freely beneath the road in a channel constructed by the U.S. Fish & Wildlife Service. According to officials, the channel is important to the overall effort to preserve the protected wetland environment in Prime Hook National Wildlife Refuge.
The Prime Hook Road improvements are reported to be part of an overall effort to return the Prime Hook National Wildlife Refuge to a saltwater marsh. Officials say this effort has involved closing wide breaches in protective dunes that formed after a May 2010 storm, removing tide gates, and constructing channels throughout the marsh.
Most of this work was completed by USF&W through a federal grant, but the grant could not be used on infrastructure, and the new bridge was vital to the success of the project. So, under DelDOT's supervision, the bridge was partially funded with a $640,000 discretionary grant from the Public Lands Highway Discretionary Program and the remainder by state funds.