A day on the bay with the Eastern Shore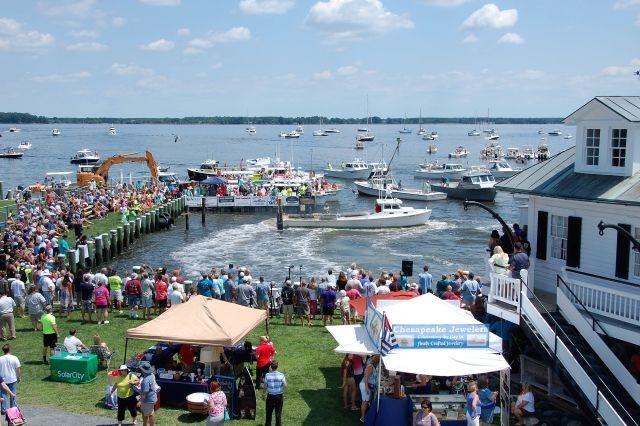 "In Maryland here were called watermen which is a term that's -a follower, we're not only crabbers, we're clammers, we're oyster men, we're hunters, we're fishermen, we do it all," said Captain Robert Newberry of the Watermen's Association. 
This all used to be done be sail . The Chesapeake Bay is the largest estuary in the world and the heritage of the Watermen's appreciation day celebrates just that.
This is the 7th annual event here at St. Micheal's celebrating  the eastern shores' watermen. And folks came from all over to enjoy it. The Boat docking contests took the win for entertainment at the event as folks from age 14 to 60 tried docking their boats the fastest and the smoothest – all for bragging rights. Even Governor Hogan hopped aboard for some action.
"I only got to ride on the back but it was fun- next time I'm hoping they'll actually let me doc the boat, I'm pretty good at it," said Governor Hogan as he hopped off a competition boat.
Watermen have been the backbone of the Eastern Shore for more than 200 years and they tell 47ABC that these annual events are important because they give the community a chance to see how the seafood industry effects them first hand. But an Eastern shore favorite,  steamed crab, was enough to bring people together from all over the world.
"The weather's great, the boat competition is fantastic, the atmosphere, the food – how much better can it get," said a visitor from Pennsylvania.
The Talbot County Watermen's Association believes that with community support as well as the cooperation of the Department of Natural Resources they can  preserve the heritage of the Chesapeake Bay and their way of life.
And as seen in recent headlines – the health of the Cheasapeake bay is at a bit of a risk. So, when people speak of "saving the Bay" they are not speaking only of saving the 200-mile-estuary that runs from Havre de Grace, Maryland to Norfolk, Virginia.
They are also speaking of the 50 major rivers and streams that pour into the bay each day, and the creeks that feed those rivers and streams.
One of the goals of the Talbot Watermens organization is to support the industry through ecological, as well as economic measures that seek to revitalize the Chesapeake Bay. And the celebration today is an example of that importance.
The association also gives back to the community in other ways.
Talbot county Watermen's association has outreach programs for scholarships. They also support different youth organizations throughout the county by raising money at events like the annual appreciation day.