New Poke'mon app incorporates local landmarks; gets folks walking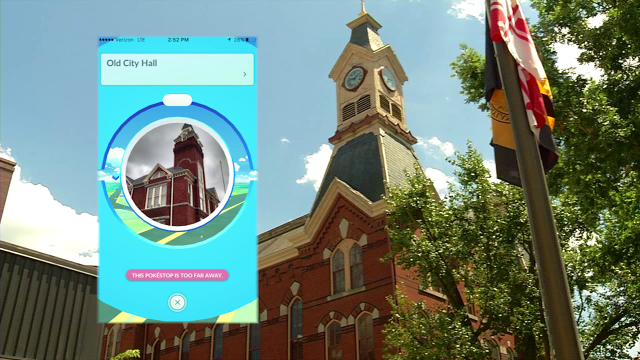 Think of it as our world inside of your smartphone where creatures run rampant. While based on fiction, the new 'Poke'mon Go' app meshes 90's fanfare with your community.
Inside of the game, users travel maps based on the roads we travel and landmarks we admire looking to catch different Poke'mon. For example, in downtown Salisbury, Old City Hall is listed as a Poke'stop (or point of interest). The same goes for Holloway Hall on Salisbury University's campus. In order to get to these destinations and collect rewards, users have to walk there. Through GPS technology, movements are tracked and characters move in correspondence with yourself. Some users we encountered on Monday say it incentivizes walking and exploration.
"Today was like the perfect day to go out, (I said) let's walk, let's not drive and we just caught a couple Poke'mon walking here." Said SU graduate, Coki Cruz.
18-year-old Salisbury resident, Gavin Kelley commented, saying "honestly, I probably wouldn't be doing much today but we got together with some friends and now we're out walking around."
Poke'mon fans span far and wide according to Andre Simmons of comic and game shop, Phoenix Rising. So much so that since it's release the app has even helped in boosting business.
"We're already a social spot for that type of genre of fandom, but that just bring more people in, casually coming in trying to catch Poke'mon in here, having a good time," Simmons told 47 ABC. "One thing essentially leads to another and overall, it's very positive."
On both apple and android platforms, 'Poke'mon go is the most downloaded app since its release last week.