Two more arrests in "Operation Duck Hunt"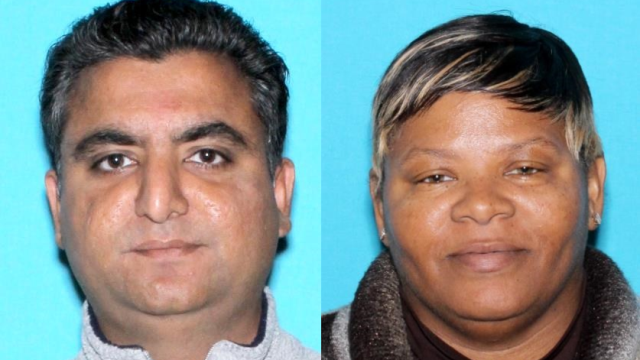 Members of the Delaware State Police say Sohail Zeeshan, 39, of Rehoboth Beach, and Linda Mcglotten, 49, of Milford, both wanted for their roles in the DSP bust "Operation Duck Hunt" have been arrested.
Police say Zeeshan was apprehended as he attempted to re-enter the United States from Canada around 1:00 AM on Monday. According to Troopers, Zeeshan was stopped by Customs and Border Protection, along with Immigration and Customs Enforcement and U.S. Homeland Security Investigations Unit.
Troopers say he was turned over to Buffalo Police, and brought back to Delaware on Wednesday.
Troopers say they have charged Zeeshan with Organized Crime and Racketeering, two counts of Fraud and False Statements, two counts of Knowingly Engaging in Transactions with Proceeds of Criminal Activity and seven Counts of Money Laundering.
He is reportedly being held at the Sussex Correctional Center on $75,000.00 cash bond.
 
DSP also add that Linda Mcglotten turned herself in at Justice of the Peace Court 3 in Georgetown on Friday; she has reportedly been charged with Racketeering, and three counts of Money Laundering.
Police say Mcglotten was taken to the Sussex Correctional Center and held on $75,000.00 cash bond. Police say they are still looking for  Reginald Mcglotten, 30 of Millsboro, Obrien Morris, 26 of Millsboro, and Luis Manzanet-Garlaza, 27 of Milford.
Anyone with information on the location of those three are asked to contact Sgt. M. Dawson at 302-752-3815.
Operation Duck Hunt was executed over two years, and ended with 13 suspects, the seizure of over 116,000 bags of heroin, 23 vehicles, 7 guns and jewelry.
In executing a warrant on one instance in May, police say they seized over 74,000 bags of heroin, marking one of the state's largest seizures of pre-packaged heroin ever.