Bouncin' around: inflatable amusement safety tips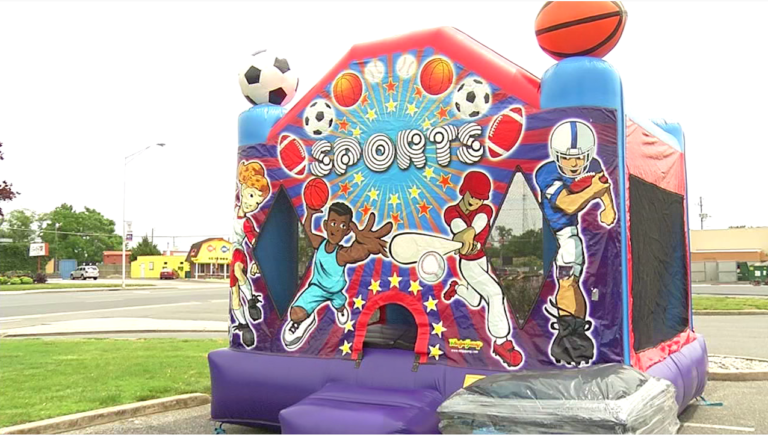 Moon bounces and other inflatable attractions are flying off the shelves now that kids are out of school.
Justin Beaver, a manager in training at ACE Hardware says, "I couldn't count off the top of my head the amount calls we get about these a day, especially now being in the middle of the summer."
The attractions can be fun. However, Beaver says folks need to be careful. A moon bounce blew into power lines in Niagara Falls, New York this week.
Beaver says, "People are spending their money for the moon bounce and they're going to want their kids to have fun for as long as they can. The best is just follow the rules, have them staked down, and when it gets out of control you just have to let it down."
The Consumer Product Safety Commission reported more than 18,000 injuries in 2012 as a result of bounce houses, moon bounces, and inflatable amusements. Those numbers were collected from emergency room data. Two thirds of the injuries involved people's legs and arms. Beaver notes over filling can cause this and it's a common mistake.
He continues, "You're going to sort of see it deflate and it's not going to behave like it normally does."
On average, the bounces hold about 800 to 1000 pounds. Beaver says height and ages don't really matter. What does is responsibility to prevent incidents like this.
Beaver goes on, "You've got to have a least one person watching the kids cause somethings bound to happen."
These tips aren't to discourage anyone from getting a moon bounce. They can be a lot of fun. You just want to make sure you're safe.
The Consumer Product Safety Commission found that the number of injuries associated with these attractions declined slightly in 2013. According to the report, it's not clear if this is due to the rise in exposure of injury rates.