Residents want health ordinance for "industrial" poultry complex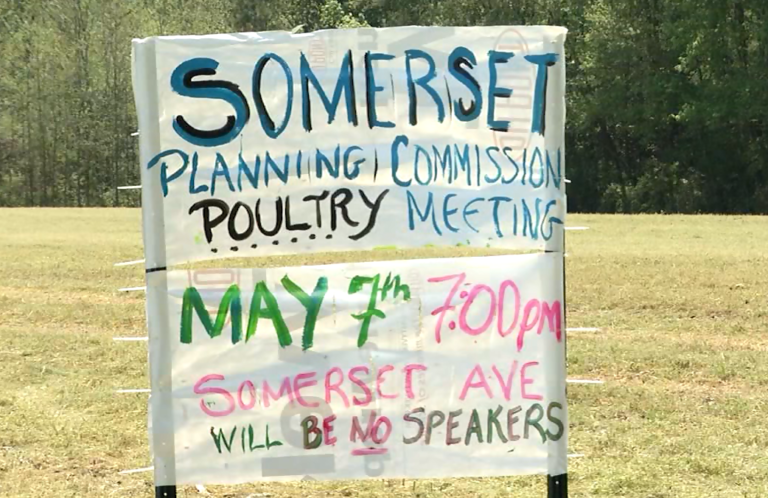 There are many farms in Somerset County, but there's a different kind of farming operation being built that has many residents upset.
Charlie Cuttone says, "We're concerned that at some point our entire development can have chicken houses all the way around it."  
Cuttone moved to his Somerset County community last July.  That same summer, he and his neighbors got word that the lot on Backbone Road behind his home would become a poultry Concentrated Animal Feeding Operation (CAFO) complex with six chicken houses.
Cuttone continues, "This isn't farming. This is an industrial operation."
Lisa Inzerillo, Cuttone's neighbor says, "This person doesn't live on this farm. He hires a tenant. He puts as many chicken houses, six- hundred and sixty feet long by sixty seven feet wide, as many as he can put on there legally."
There is nothing illegal about the CAFO complex being built on the property. The community is in an agricultural residential zone which allows farms and homes to co-exist.
Residents in this neighborhood support farming, just not on this scale in their neighborhoods. Community members want big non-family farming complexes restricted to an industrial zone. They have been pushing for that change since November with the Somerset County Planning Commission. They've also reached out to the Assateague Coastal Trust, or ACT with health concerns.
Kathy Phillips with the Assateague Coastal Trust says, "The air emissions that are coming out of these houses are contributing to antibiotic resistant bacteria problems that we have in humans."
Those were findings given to the ACT by researchers at Johns Hopkins University and the Maryland Institute of Applied Environmental Health.
They also found that large-scale industrial complexes can result in high levels of nitrates and an influx of black flies.
The community and the ACT believe this information is enough to submit a health ordinance to the planning commission. They're hoping to keep any future CAFO's out of their backyards.
Inzerillo continues, "We can be protected so that this doesn't happen again. This doesn't just stop here."
Community members will be submitting their health ordinance to the county planning commission this Thursday at their meeting at seven o'clock.
A member of the commission tells 47 ABC that this meeting will not be taking public comment on this issue.
The commission will either accept to move this ordinance forward to the county commissioners or recommend more research be done.
One of the county planning commissioners also says because the construction has already begun on Backbone Road, it doesn't appear that anything can be done about the construction can be done there.
However, if this ordinance is considered, it could affect other industrial complexes in the future.