Local five-year-old fights kidney disease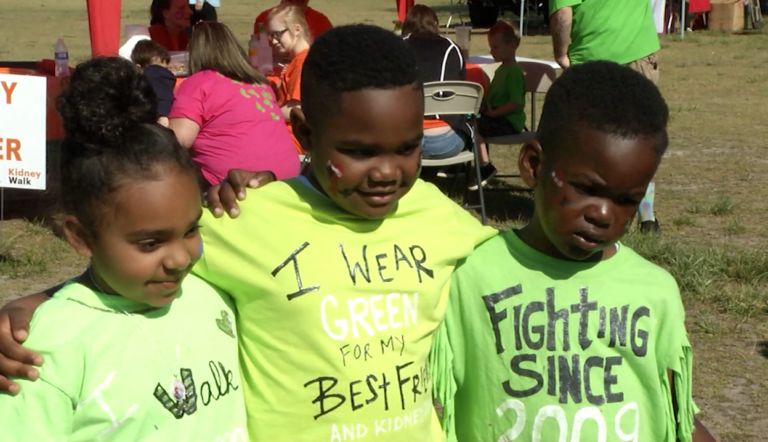 From the outside, five-year-old Kaiden Davis looks like any other bouncy playful kindergartener.
Tihana Davis, Kaiden's mother says, "He's just our angel. He's our miracle baby."  
Kaiden was born with chronic kidney disease, and now it has reached stage two.
His mother continues, "He's doing medication right now; two medications a day, a couple times a day. He doesn't require dialysis yet so thank god for that."  
However, doctors say one day Kaiden will need a transplant. According to the National Kidney Foundation, roughly 13 people die everyday waiting on a life- saving kidney.
Those staggering numbers are why Kaiden's loved ones walked in the 2015 Salisbury Kidney Walk. They're encouraging people to become organ donors, raising awareness, and most of all, supporting the little boy they love. 
Josiah Ayres says, "Because I'm Kaiden's best friend." Janiyah Hallett says "Because I'm Kaiden's best friend and I want to support him." Kaiden continues, "They come to my house everyday."   
Kaiden's mother goes on, "Kaiden is active, playful, he's smart. He doesn't let his condition hold him back from anything."  
That was definitely the case Sunday morning. Kaiden was given the honor of cutting the ribbon to kick off the walk.
Organizers tell us they had more than four hundred and fifty people in the ninth annual walk. The event featured booths with representatives from the health department, Sherman the shore bird, and 47 ABC's Daniel Johnson emceed as participants broke it down doing zumba.
Nicole Scharf with the National Kidney Foundation says, "We want these patients, these families, and these loved ones to just come out and get to know what kidney disease is. It's prevalent and a lot of people don't know about it and it's a big problem."
We're told the funds raised haven't been totaled yet. However, organizers say at least forty thousand dollars was raised from the walk.