Two arrested in connection to two Salisbury robberies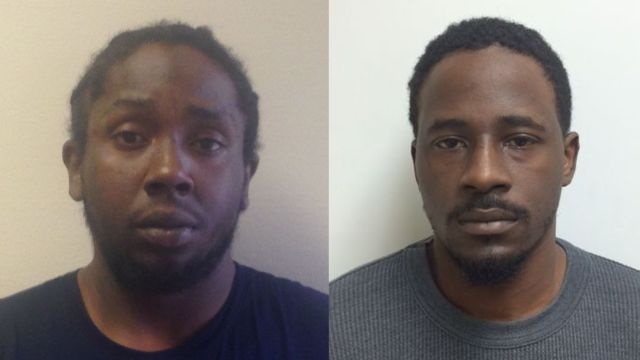 Police in Salisbury have arrested two men, who they say were involved in two area armed robberies.
Salisbury Police say during their investigation into the March 2nd armed robbery of a bicyclist on Olivia Street, and the March 3rd robbery of a pedestrian on S. Salisbury Blvd near Lloyd Street, they found that both victims had been approached by the same black passenger vehicle.
Police say the March 3rd victim was familiar with the driver of the vehicle, 24-year-old Terrell Showell, who offered him a ride while he was walking, but when Showell got to the Route 13 location, he kept driving, until eventually stopping, pulling a gun on the victim, and demanding money. According to the report, the passenger, later identified as 25-year-old Donte Stone, then took the victim's cell phone, and wallet, before hitting him the in the head and face with the handgun. Police say the victim was able to get out of the car, and call Police. He was later treated at Peninsula Regional Medical Center, before being released.
The day before, in the March 2nd incident, Stone had apparently been driving the vehicle, and pulled in front of the man's bicycle, at which he hopped out of the car, pulled a gun on the bicyclist, and demanded money. Police say Stone took the victim's money, cell phone, backpack, and wallet, before fleeing in the car with Showell.
Detectives say both Stone and Showell used credit cards stolen during both incidents at businesses in both Salisbury and Fruitland, totaling around $200. Police say after they identified Showell and Stone, they were arrested on March 4th and 5th respectively, with the assistance of the Maryland State Apprehension Team. Officials say after executing search warrants, they located evidence linking the suspects to the investigation.
Salisbury Police say they are still actively looking for the handgun used in the incidents, described as a long barrel revolver. Anyone with information about either of these incidents, is asked to contact the Salisbury Police Department at 410-548-3165 or Crime Solvers at 410-548-1776.