UPDATE: Fire Marshal's Office investigates cause of OC brew pub fire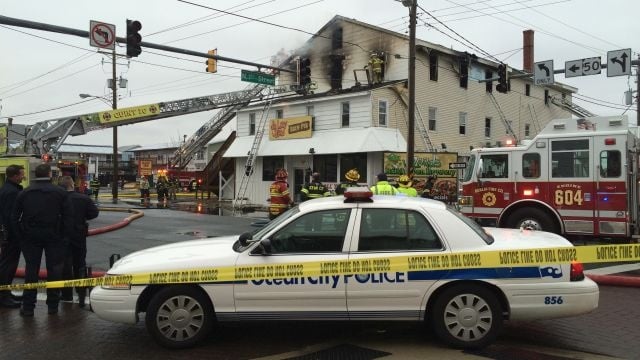 Fire officials in Ocean City are continuing to investigate Tuesday's fire at the De Lazy Lizard Brew Pub.
A spokeswoman for the town of Ocean City, Jessica Waters, says fire crews were dispatched around 9:50 AM Tuesday morning to 25 North Philadelphia Avenue. As they arrived, they reportedly found fire coming from inside the building.
Waters says crews made two immediate rescues from within the building. One of the victims was treated on the scene for non life-threatening injuries, and another victim was transported to Atlantic General Hospital. Two firefighters were also transported, but officials say all of the victims had non life-threatening injuries.
The three alarm blaze took firefighters around two hours to control. Assisting on the fire were fire crews included Berlin, Bethany Beach, Showell, Ocean Pines, and Roxana.
Town officials say an initial damage assessment showed the majority of the fire damage was on the third floor, but the cause of the blaze is still unknown.
Locals tell 47 ABC that the brew pub, which is currently not in business, was in trouble. Ocean City officials could not confirm why or when the facility shut down. The Worcester County Liquor Control Board says the business was caught illegally selling alcohol to a minor back in October, but they paid the $500 fine for the violation.
The Ocean City Fire Marshal's Office, with assistance from the Worcester County Fire Marshal's Office, is investigating the fire. Anyone with information about the fire is asked to call the OC Fire Marshal's Office at 410-289-8780.