Crews set sail to break ice surrounding Tangier Island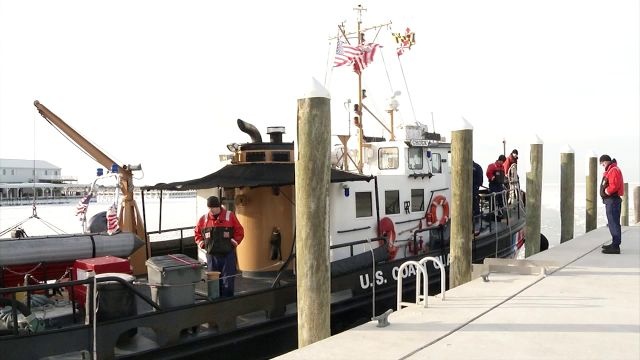 Boxes of food, medical supplies, mail and wood pellets were loaded up on the U-S Coast Guard headed out from Crisfield, Maryland to Tangier Island, a small fishing and tourism outpost in the middle of the Chesapeake Bay.
Joint efforts were being led by the U.S. Coast Guard and Maryland Department Of Natural Resources ("DNR") on Saturday, to break the ice surrounding the 1.2 square mile island. The ice has reportedly made it impossible to travel and from by ferry, halting their transportation services for about a week.
"This is our mission. This is what we do. For me, that's what's fueling my warmth right now…to be able to help these people." Explains Petty-officer Jeff Ritter, of the U.S. Coast Guard. 
Both agencies sent ice-breakers and cutter — the "Crock" from the U.S. Coast Guard and the "J. Willard Tawes" from DNR. The ice-breakers were used to cut a path to the Island.
Captain Eddie Somers of DNR says the ice is among the thickest he's seen in years.
"Probably in the last ten years, this is one of the more extreme winters." Says Captain Somers. "The wind moves the ice when you get out in the open waters and it layers up on each other so in places, I would guess at least 12 inches."
The mission was not just about re-supplying. It was also about returning some people home. Also on board with the U.S. Coast Guard, were six patients who required medical attention on the main land.
While the island went without ferry service, one patient stayed with her friend Lisa Pusey who is a former Islander herself. Pusey, like many islanders, says the island is small but also self-sufficient.
"We manage pretty well in times like this and learn how to take ourselves, basically. But we are very thankful for the efforts that everybody does to help Tangier out in times like this." Explains Pusey.
According to the U-S Coast Guard, the agency originally expected to start the process a few days ago, but they first had to fix a problem with their shaft-seal on the cutter.