Ocean Pines Yacht Club holds Normandy flag ceremony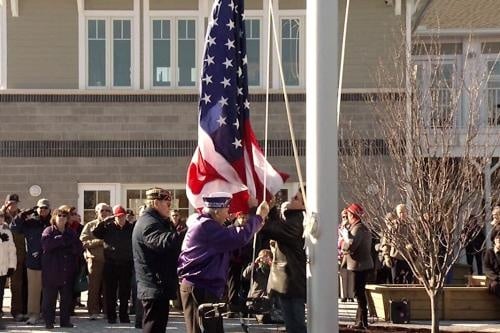 From the beaches of Normandy France to the beaches of the Eastern Shore. The Ocean Pines Yacht Club held a flag raising ceremony to honor World War II veterans who served at Normandy.
The flag raised was the first flown over the American Cemetery at Normandy in 2004, and was also the first flag raised at the Veterans Memorial in Ocean Pines in 2005.
Today it became the first flag ever flown at the new Ocean Pines Yacht Club.
Sharyn O'Hare, with the Ocean Pines Board of Directors says, "It's very special we'll have our tenth anniversary on Memorial Day this year, and it will fly again and then it will be permanently displayed here at the ocean pines yacht club."
The ceremony also featured an honor guard, and John Sauer, a local survivor of the Normandy Beach Landings.