Ireton Proposes County To Reduce "Taxpayer Burden"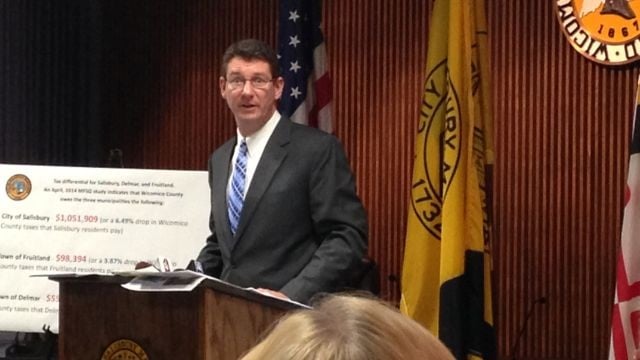 To reduce apparent "taypayer burden", Salisbury Mayor Jim Ireton is proposing that newly elected county leaders address fiscal inequalities within the county which also include funds for fire services.
Under the current Fire Service Agreement, the Salisbury Fire department serves over 56% of the Wicomico County population and responds to more than 62% of service calls. According to Mayor Jim Ireton, the department does not get a level of funding equal to the the amount of work it does.
"If you have some place that goes on 30 calls a year and you have another place that goes on 3,600…doesn't it say it that the place that goes on 3,600 calls a year should be paid to go on the requisite amount to go on those calls? That's what I'm asking the county to figure out." Explains Ireton.
According to Ireton, the gap between service calls and funds has amounted to over two million dollars in county fire service, which paid for by city taxpayers.
He's urging new county leaders to take up the issue in the next fiscal year. One suggestion is proposing a drop in the country property tax rate for residents in Salisbury, Fruitland, and Delmar.
The county allegedly owes over one million dollars to the city of Salisbury for the 2015 Fiscal Year.
Another part of the equation lies in his proposed Assessable Base Model. Ireton tells 47 ABC, county residents would be expected to pay more for services and according to the mayor, this would take the burden off city residents who are currently subsidizing about 80% of the district.
Officials say this move could potentially generate ten-million dollars of revenue. Half of the projected funds would be distributed evenly amongst the 14 companies county-wide, to go toward fixed costs of operations. The other half would be based on call volumn at each company.
Salisbury Fire Chief Rick Hoppes says it's ultimately a county decision.
"If they want to include it as an additional tax, they can." Says Chief Hoppes. "The city could likewise do the same thing, delmar could do same thing…you could take what you're currently funding and off-set it because of this "new tax", if you will, and try to relieve that burden even further."  
County Executive Bob Culver was not available for an immediate comment; however, he released a statement to 47 ABC that stated "My schedule did not allow me to attend Mayor Ireton's press conference regarding the topic of tax differential. I'm fully prepared to discuss this matter with the Mayor and look forward to doing so in the near future."
We're told, Mayor Ireton officially dropped off the report containing his proposed solutions to the County Executive on Friday. No word yet if he has been able to review it.