Crisfield Armed Robbery Sends Woman To Hospital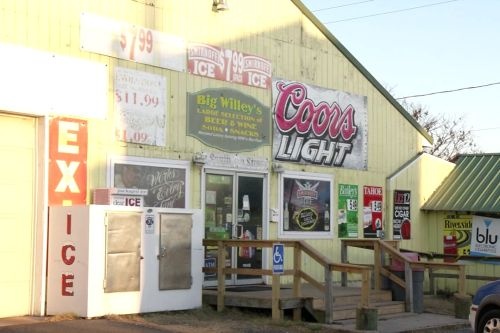 "I'm nervous, kind of scared." Said Crisfield business owner Tracy Ward, after hearing about the robbery took place at Big Willey's beer distributor.
Around 11 AM Monday, two robbers, one of which was armed, demanded money from a local beer distributor and put a woman in the hospital.
Dwayne Tilghman, a clerk at Big Willey's described what happened, saying "Two guys came in saying get down, get down. I thought they were playing at first so I walked around the counter and that's when I saw a gun in one of their hands."
According to police, the first suspect that entered had a gun.
When he allegedly demanded money from clerk, Tilghman, the store employee, did what most wouldn't.
He tried to wrestle the gun away from the suspect.
Police say they were rolling on the ground when the second suspect reportedly entered brandishing a piece of wood.
Apparently the suspect went behind the counter and struck Tilghman's boss in the head, even though she had cooperated with the demands. Tilghman said "she was giving them the money, and he just hit her anyway." and "there's blood all over the floor."
We spoke to a number of business owners and employees in Crisfield who are shaken up over this news.
A clerk at the County Dispensary liquor store spoke about the frequency of robberies in Crisfield, "you have a robbery once in a blue moon." and "It's not something you're used to all of the time."
Tracy Ward, the owner of Main Street Flowers also commented, adding "Its unlike something like that to happen in this town because it is a nice town and a very small town and everybody knows everybody and that kinda stuff don't normally happen around here."
Police described the suspects as black males, aged between 18 and 22-years-old, wearing ski masks over their faces, and black pants.
47 ABC reached out to Crisfield Police for more information, but investigators weren't available early Monday night for comment.
Police are asking anyone with information about this incident, to contact the Crisfield Police Department at 410-968-1323, and ask for either Det. Lt. Luedtke or Det. Oakes. There is reportedly a reward being offered for tips that lead to an arrest and conviction. The investigation into this incident is on-going at this time.