The Brightside: KASH Collections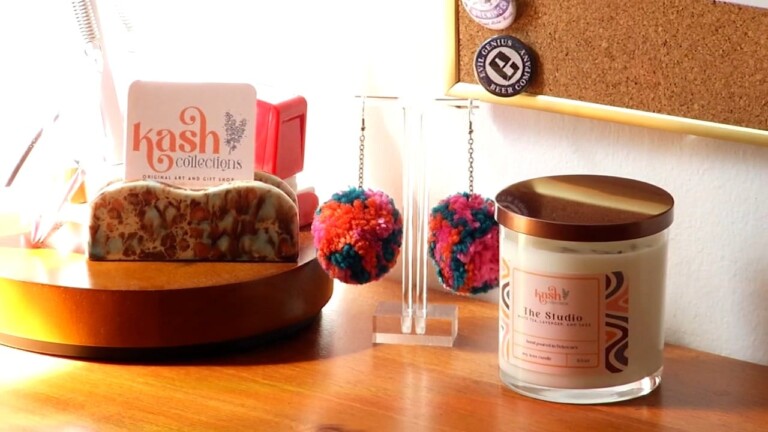 DOVER, Del. – We at 47 ABC are proud supporters of small local businesses, we're highlighting one Delaware entrepreneur who is building her own business from the ground up.
Kassandra Ashley-Rodriguez, founder and owner of KASH Collections is growing her business through social media, as well as a knack for custom art. "I do for the most part take it day by day, how will I make this better, it comes in ebbs and flows," says Rodriguez.
Small businesses are what some would call the heart of a community. No matter how old or small, anyone can find success with just a simple idea. That's the philosophy Rodriguez is following when it comes to her own small business. "Of course, I take it one day at a time and I try not to be too hard on myself, I try not to compare myself to other people who may seem more successful because everyone is different."
In high school, Rodriguez had a knack for painting decorative rocks for friends then in college, a request from a friend to paint a Wesley College-themed rock, after it was acquired by Delaware State University, launched her business forward. "From there I had multiple people come up and say I want some. So I grabbed my laptop and said I guess I'm starting a business," explains Rodriguez.
KASH Collections was born, an online art shop specializing in watercolor line work. Rodriguez who is not even 30 years old, says she's finding success with her skill, social media, and a tight-knit circle of small business owners. "I didn't realize how many small business entrepreneurs that are my age live in my community," says Rodriguez. "I go on social media a lot and I just scroll and see all this inspiration and from there, I found my spot of delicate imperfections squiggles, and dots, and it just works."
Rodriguez's social media gained popularity back in 2021 after a video of her creating one of her pieces went viral, helping her gain verification status. From there, her whole idea of social media and the success small businesses could find, changed. "Some of them are as young as 24 and own their whole salon and I'm like whoa how did you do that!" Rodriguez adds, "I want to work with other small businesses, even using social media, you just say hey I want to do this, how do I go about it? And I'm sure someone out there will say hey this is what I did."
Rodriguez's artistic ability, custom designs, and floral hippie aesthetic haven't just flourished into a booming business, they also reflect her overall message; That you just have to love what you do, find your skill, build your business, and use the tools and support around you to make it happen. "I want to just create and do more original pieces. I do a lot of custom work right now which is awesome and I love it," says Rodriguez. She adds, "If you want to do it, I say just jump in and do it. You will figure it out as you go along."
To learn more about her story, and take a look at her business visit her website.
Rodriguez will be at the Flea Market at Stone & Sage in Milford on May 6th.