Maryland Caucus of African American Leaders calls on Gov. Wes Moore to launch investigation into Kent Island Highschool Basketball incident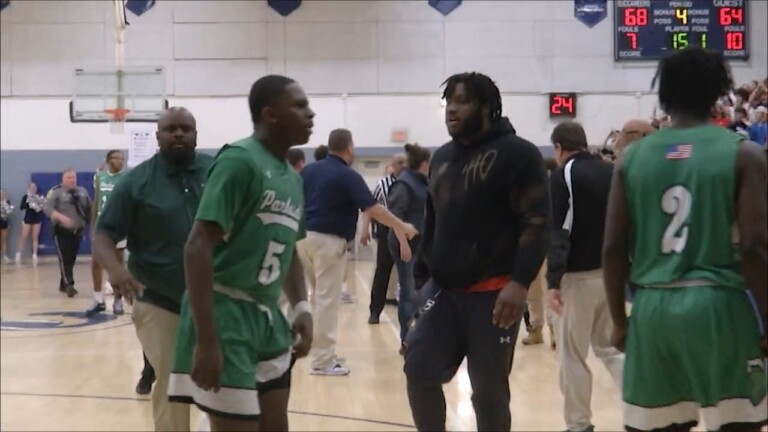 SALISBURY- The Maryland Caucus of African American Leaders is demanding the Moore Administration launch an investigation through the Department of Education into the Queen Anne's County Public School System and the incident at the Kent Island and Parkside High Schools Basketball game.
"The fact that this is not an isolated incident but part of a pattern of racist behavior involving Kent Island students necessitated a systemic response," said Wicomico County NAACP Vice President Samuel Henry. 
The incident at hand surrounded a high school basketball game between Kent Island and Parkside High Schools. The game was called off after a Parkside student reportedly threw a punch, following what many sources tell 47ABC was the use of racial slurs against the student by Kent Island players and fans.
"We are demanding the following stops be taken, we ask Governor Wes Moore command the State Superintendent of Schools Mohammed Choudhury begin an investigation into Queen Anne's County School with the purpose to make sure such behavior is no longer tolerated," Henry said adding that they also demand the district take full accountability of their conduct. 
Speaking on behalf of the MCAAL and various NAACP chapters present at the event, he called for a suspension of play between Kent Island and Wicomico County School District teams until the demands are met.
Kent Island's Athletic Director released a statement saying they were unable to substantiate any of the allegations against their players and believe it was the action of Parkside students who made it unsafe.
Henry tells 47ABC he isn't sure a thorough investigation can be done without the state stepping in.
"I don't have confidence in that at all," he said when asked why the leaders did not go to the district directly adding "It's more than just student accountability this seems to be a systematic issue that students groups of people in one area seem to think it's okay to treat students in this manner."
In A Statement to 47ABC Queen Anne's County Public School Superintendent Dr. Patricia Saelens responded to the demands saying "Consistent accusations with no evidence of wrongdoing is irresponsible and unacceptable."
Convener of the Maryland Caucus of African American Leaders Reverend James Jones says the caucus also wants to protect the Parkside Highschool player at the center of the physical altercation that ended the game.
"I do not condone anybody taking swings at anybody else but after a while young or old it gets to the point you can no longer tolerate being called out of our name being spit on and looked down upon," he said adding "we will go to the highest position that we can to make sure that student does not receive unjust punishment or treatment."
The leaders say they've been here before with the school system but they say they refuse to let another incident go unanswered.
"This investigation is a must and we are calling on our governor to make this happen," Jones said.
According to Jones, Director of the Queen Anne's County NAACP Carl Snowden is set to meet with the Maryland Attorney General to discuss the incidents.