Confederate Controversy Continues in Georgetown: Holiday party planned at Marvel Museum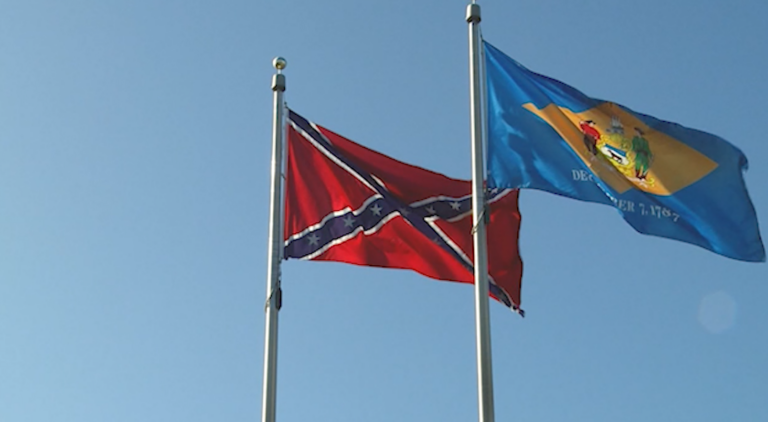 GEORGETOWN, Del. – The confederate controversy continues this week in Georgetown after it was learned that the town's annual holiday party will be held at the Marvel Museum, the same location where the confederate flag flies.
Georgetown Mayor Bill West is speaking out in frustration following the months of recent controversy surrounding the confederate flag, which has now spilled over into the town's annual holiday party set to take place this Friday.
"It's been HELL," Mayor West told our Rob Petree. "To me this is a slap in the face, to me. They know what my feelings are about the situation out there, and to do this is just a slap in the face."
The decision follows months of contention after three council members – Angela Townsend, Penuel Barrett, and Sue Barlow – approved thousands for repairs at the museum. And in light of everything, Mayor West feels the holiday party should be left out of the controversy.
"This is a Christmas party for the employees, this isn't for them, this is for the employees," Mayor West said. "I don't think there was an employee asked where they wanted this Christmas party."
We can't confirm exactly who led the charge to have the party at the museum, or if any employees were asked for their opinion. Mayor West tells us while he won't attend because of a previous appointment out of town – even if he could – he wouldn't.
Meanwhile, the Central Delaware NAACP, who has been vocal on the issue for months, is also condemning council for their latest decision.
"They've made it painstakingly obvious that they don't give a care or concern about the black and brown constituents and even the non-black and brown constituents that have joined in the public outcry to remove that flag so that Georgetown can move towards racial recognition and healing," explained Fleur McKendell, President of the Central Delaware NAACP.
The condemnation comes after a check, for more than $24,000, was delivered to the Georgetown Historical Society, which runs the museum. That check was voided by Georgetown Mayor Bill West after learning that no formal committee process was established prior to the vote that approved the funding back in July.
After Mayor West voided the check, three council members, Angela Townsend, Sue Barlow, and Penuel Barrett, pushed ahead with that funding, meeting outside of council chambers to deliver a new check to the historical society last month. It was that move that violated the Freedom of Information Act (FOIA) request through open meeting requirements.
"We are taking a stand and pushing back against the three Georgetown council members who supported the waving of that flag," McKendell said as she named the council members. "Sue Barlow, Angela Townsend, and Penuel Barrett."
McKendell and others, including the Lower Sussex NAACP, addressed council and delivered a presentation where they explained how the confederate flag is hurtful and why it should be taken down, despite their efforts however, those same three council members doubled down on their decision to fund the museum.
Deputy Attorney General Dorey L. Cole issued a response back in September to a FOIA request that was filed by the Southern Delaware Alliance for Racial Justice. In that response, it stated that the Town of Georgetown violated the FOIA when the three council members violated open meeting requirements:
'We find that a quorum of the Town Council violated the open meeting requirements by privately discussing and taking action on the Georgetown Historical Society's grant check without complying with the open meeting requirements.'
Council ultimately voted to approve the funding again by a three to two vote, which Mayor West and Councilwoman Christina Diaz-Malone voted against.
"I guess we'll see everybody in court," Mayor West said following the vote.
In an interview in September, Mayor West called on the three council members to step down following the response that was issued by the AG's Office.
"To me, I think this is just about criminal," Mayor West told 47 ABC's Rob Petree. "I'm hurt to realize that we've got three council members that are trying to run the town and make decisions outside of open government. They violated code-of-conduct. To me, they can't be trusted anymore. They've gone behind our back, done secret meetings, and done things they're not supposed to do, and they can't be trusted anymore."
Mayor West now wants to see an ethics investigation conducted by the state: "instead of our own ethics committee, I'd think it needs to be investigated by the state because we can't let our towns people who are on the committee have to go through all this nonsense that's gonna be brought out."
McKendell was at Return Day with a sign calling out council and demanding action. The sign read: "The Confederate Flag Stands for HATE & RACISM"
"Marvel Carriage Museum is providing one of the carriages in today's parade, and they actually have the flag waved on their property, the Georgetown Historical Society, and we are here today to say that flag needs to come down, to take a stand against the three council members that supported the waving of that flag," McKendell told our Rob Petree on the Circle in Georgetown.
As of this time, none of the three council members, or the Georgetown Historical Society, have responded to our repeated calls and requests for comment.