Georgetown Historical Society responds to calls to remove confederate flag at Marvel Museum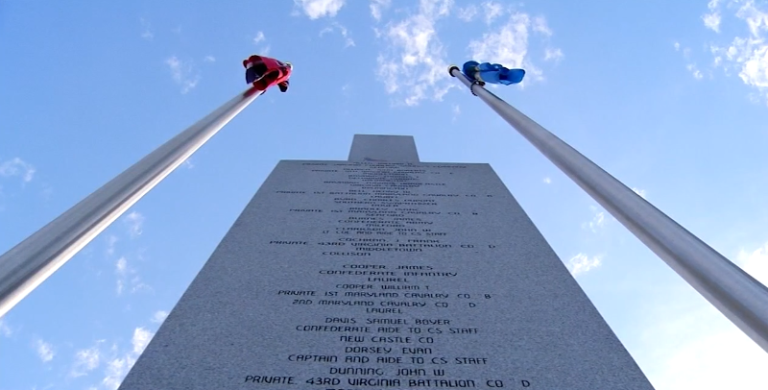 GEORGETOWN, Del. – The Georgetown Historical Society has issued a statement in response to weeks of controversy concerning a confederate flag they fly on the grounds of their Marvel Museum.
"As our name confirms, for decades our members and volunteers have been actively engaged in our beloved community to further, present and honor its history, without fear or favor, and remain dedicated to educate in that history with fidelity and truth," the organization stated in a press release following weeks of unanswered calls from our news department requesting a formal response to calls from residents and elected officials to have the flag removed.
The Delaware Grays' Sons of Confederate Veterans installed the monument where the confederate flag flies outside the museum back in 2007.
In their official statement, the organization gave a rundown of the history of the flag and the memorial it represents on the grounds of the museum.
"Consistent with our mission, on or about 2005 we issued a mutual invitation to both representatives of Delaware Union and Confederate veterans to erect a monument honoring each of those Delawareans who demonstrated valor in battle toward the ultimate sacrifice that shaped our history in the late War Between The States prosecuted between 1861-1865," officials wrote in their press release.
Officials with Georgetown Historical Society then went on to defend their right to have such a memorial in their statement and dismissed the concerns from those who seek to have the confederate flag taken down, saying "memorials of accuracy in history don't always generate universal acceptance or endorsement."
"While there are monuments honoring those who joined the Federal armies at Gettysburg and Sharpsburg, no memorial to Delaware's Confederate history exists in their struggle seeking independence, other than ours. Memorials of accuracy in history don't always generate universal acceptance or endorsement," the organization wrote." Our Society appropriately gave its word of binding commitment to SCV, allowing them to exclusively select the flags to be evidenced as part of their memorial in perpetuity, upon which promise they have justifiably and materially relied continuously since."
Despite many feeling that the confederate flag condones and promotes the idea of slavery, serving as a constant reminder for black Americans what their ancestors endured, the organization stated that they regard the institution as a "moral and political evil for all time."
"We note that both GHS and SCV have and continue to regard the institution of slavery as a moral and political evil for all time, as Gen. Robert E. Lee consistently maintained in his public pronouncements and private correspondence," organization officials wrote in the press release.
In closing, they stated that they will not remove the flag, intending to keep their word to the Sons of Confederate Veterans, and called for tolerance from those in the community who are offended by their choice to fly the flag:
"The GHS intends to keep its word to SCV, particularly on the choice of flags to adorn the Memorial, and call on all citizens of good character and good faith to commit to the environment of unity, pluralism, and tolerance demonstrated at the unveiling on May 12, 2007, allowing those who chose to honor their dead to do so with respect for their election, all in furtherance of the advancement of education and history that defines the noble object of GHS."
This statement was released on the heels of the ignited controversy that has been a topic of discussion for years in the Georgetown community. Last month, the Georgetown Town Council approved over $24,000 to pay for repairs at historical society's Marvel Museum, a move that outraged some residents who argue the organization should receive no public funding unless they take down a confederate flag that flies on the grounds.
A motion was made to form a committee along with that funding approval that will look at ways to work with the Georgetown Historical Society in the hopes of resolving the issue with the flag.
The controversy over the flag spilled over into Sussex County Council after it was learned that $2,000 of county funds went to fund the installation of an air-conditioning unit for a new exhibit at the museum. Sussex County Councilman Mark Schaeffer plans to make a motion at this week's council meeting demanding the money be returned to the county.
Repeated requests to reach leadership with the Georgetown Historical Society for an interview have been unsuccessful.