What would the impeachment process look like for the Delaware State Auditor?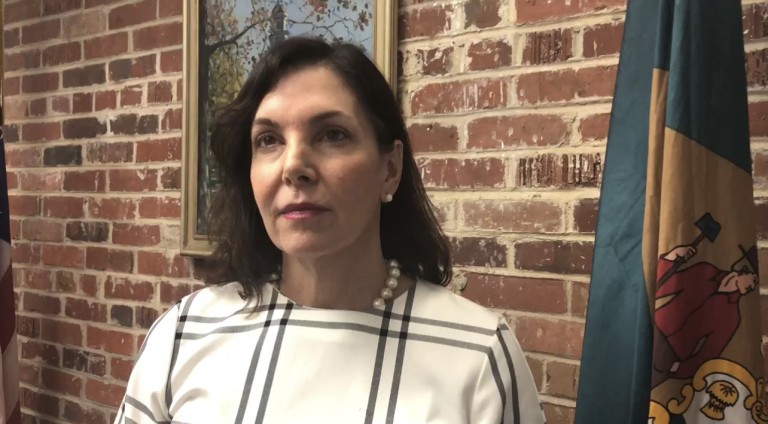 DOVER, Del. – Delaware State Auditor Kathy McGuiness has been convicted on three misdemeanor charges following a lengthy trial that could lead lawmakers to respond with the first ever impeachment proceedings for a statewide elected official in the state's history.
McGuiness was found guilty on charges of official misconduct, illegally structuring contracts, and conflict of interest, all three misdemeanors. The jury dropped the two more serious, felony charges. The verdict marks the first conviction of a sitting statewide elected official in Delaware history.
What happens next is on the minds of many Delawareans following news of the trial's outcome. The Delaware General Assembly could move forward with impeachment. Delaware's constitution outlines provisions that the state legislature would have to follow in order to move forward with the impeachment process, which would mark the first time such a process has been initiated in the history of the state.
If articles of impeachment are invoked, they would have to start in the House of Representatives, according to John Brady Esquire, a former legislative attorney and elected official who gave our news department a full rundown of what that process would look like if lawmakers do decide to move forward.
"Articles of impeachment would have to pass the House and then a trial would be held in the Senate where they would vote," Brady explained. "Senators would act as the jurors essentially."
If impeachment proceeding are brought forth, a decision that would ultimately lie with Speaker of the House Pete Schwartzkopf, then House lawmakers would have to vote on whether or not to actually impeach McGuiness, a vote that would require a two-thirds majority. Assuming House lawmakers vote to impeach McGuiness, which would require Republican support, a trial would later be held in the Senate where lawmakers would then vote to find the Auditor either guilty or not guilty of impeachable offenses. If she is found guilty, she could then be forced out of office.
According to Article. VI – Section 1 of the Delaware State Constitution – Impeachment And Treason:
'The House of Representatives shall have the sole power of impeaching; but two-thirds of all the members must concur in an impeachment. All impeachments shall be tried by the Senate, and when sitting for that purpose, the Senators shall be upon oath or affirmation to do justice according to the evidence. No person shall be convicted without the concurrence of two-thirds of all the Senators.
On the trial of an impeachment against the Governor or Lieutenant-Governor, the Chief Justice, or, in case of his or her absence or disability, the Chancellor shall preside; and on the trial of all other impeachments the President of the Senate shall preside.'
When it comes to what actually constitutes an impeachable offense, under the state's constitution, the misdemeanor charges that McGuiness was convicted of Friday would indeed qualify.
Article. VI – Section 2 of the Delaware State Constitution – Grounds for Impeachment:
'The Governor and all other civil officers under this State shall be liable to impeachment for treason, bribery, or any high crime or misdemeanor in office. Judgment in such cases shall not extend further than to removal from office, and disqualification to hold any office of honor, trust or profit, under this State; but the party convicted shall, nevertheless, be subject to indictment, trial, judgment and punishment according to law.'
If the Senate votes and finds McGuiness guilty, assuming the process even gets that far, then the Governor would be constitutionally able to act and remove the State Auditor from office.
Article. III – Section 13 of the Delaware State Constitution – Removal Of Officers By Governor; Procedure: 
'The Governor may for any reasonable cause remove any officer, except the Lieutenant-Governor and members of the General Assembly, upon the address of two-thirds of all the members elected to each House of the General Assembly. Whenever the General Assembly shall so address the Governor, the cause of removal shall be entered on the journals of each House. The person against whom the General Assembly may be about to proceed shall receive notice thereof, accompanied with the cause alleged for his or her removal, at least ten days before the day on which either House of the General Assembly shall act thereon.'
Whether or not this actually happens remains to be seen; however, it has been reported that the House Judiciary Chair, State Rep. Sean Lynn is looking into the matter, and other House lawmakers are speaking out, calling for McGuiness to step down or resign, and threatening to start the process of impeachment if she doesn't.
House Majority Leader Valerie Longhurst and House Majority Whip Larry Mitchell issued a joint statement following the conviction on Friday, saying "she cannot continue to serve in this position, and the governor can take action to remove her from office should she refuse to resign."
"We put our trust in our elected officials – especially those whose responsibility is to serve as a watchdog for the state's finances – and when you lose that trust, you cannot serve in that position any longer. Since the auditor was initially charged, we have maintained that we should wait and let the legal process play out," the joint statement read from Rep. Longhurst and Mitchell. "It has, and the auditor has been found guilty of several crimes that call into question her fitness to serve in this office. As a result, the auditor should step down from her position and resign immediately. Additionally, the Delaware Constitution is clear: If the auditor will not resign, the governor must exercise the powers he has to 'remove from office any public officer convicted of misbehavior in office.' She cannot continue to serve in this position, and the governor can take action to remove her from office should she refuse to resign."
Across the hall, Senate leadership was also quick to issue statements, also calling for the resignation of McGuiness. Senate President Pro Tempore Dave Sokola, Senate Majority Leader Bryan Townsend, and Senate Majority Whip Elizabeth "Tizzy" Lockman issued a joint statement in response to the jury's conviction of State Auditor Kathy McGuiness:
"Today a Kent County jury found State Auditor Kathy McGuiness guilty on three counts that, taken together, show a brazen willingness to circumvent the same open government laws and accounting standards she was elected to enforce. When Auditor McGuiness was charged in November, the Senate Majority Caucus immediately called on her to take a leave of absence, citing concerns about her ability to execute her official duties given the gravity of the transgressions outlined in the indictment," the Senate leadership's statement read. "Now that she has been found guilty of official misconduct, illegally structuring contracts to flout procurement laws, and conflict of interest, we call on her to resign immediately. Any public official engaged in these behaviors is unfit for public office, but especially the state's top financial watchdog. While Auditor McGuiness considers her options and political future, the Delaware State Senate will carefully consider its Constitutional role in ensuring accountability and that the best interests of Delawareans are served."
Attorney General Kathy Jennings, who launched the investigation and initiated the indictment that led to McGuiness' conviction, also issued a statement following Friday's outcome of the case, saying "abuse of office will not be tolerated in Delaware."
"From the moment I took office, I promised that no one would be either above the law or beneath justice. Today's guilty verdict confirmed that. After weeks or grueling trial and mistreatment of whistleblowers, the state auditor — whose job is to protect our state from waste, fraud, and abuse – has been found guilty of three crimes by a jury of her peers," Attorney General Jennings stated. "I am grateful for the jury's judgment, for the excellent work of our trial team, and above all else for the courage of the whistleblowers and witnesses who came forward and made accountability possible. Our office's — and the jury's —message is clear: abuse of office will not be tolerated in Delaware."
McGuiness has stated numerous times that she will not step down and fully intends to run for re-election. Stay with 47 ABC for more details on this developing story.