Thunder Over Dover draws crowds to see Thunderbirds and Blue Angle joint Air Show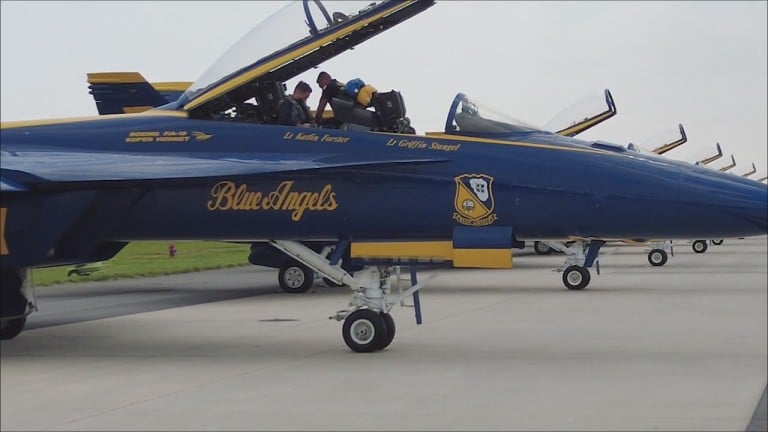 DOVER, De- It's a day that had even the pilots who have trained and practiced for months to make it excited as The thunderbirds pilots took part in an airshow alongside their navy counterparts, the Blue Angels.
Celebrating both the 75th birthday of the base and the 69th birthday of the thunderbirds.
The fighter jets flew in tight formations, climbed so high- they hid behind the clouds- and came roaring back down to earth as the crowds cheered their every maneuver.
"We are going to show you the maximum capabilities of this aircraft how fast it can turn how tight it can move and how low we can get basically everything it is capable of," said Pilot Major Kyle Oliver.
"This jet flies up to twice the speed of sound 9x the force of gravity so what that means is if your 200 pounds at that moment you weigh 1,800 pounds, you're going 600 miles per hour 16 inches apart and its an incredibly extreme environment that requires the pinnacle of health and we do it every day," said Pilot, Captain Travis Grindstaff.
Grindstaff says his role is to not only fly but also to be on the ground helping to coordinate positioning for the jets to best line up in front of the crowds.
Dover Installation Commander Colonel Steven Huesman tells us, that the day was a way to thank the community for all their support.
"The partnership here in Delaware is something that I have never seen this community surrounds itself around the base they take care of the base they help us with a ton with everything," he said.
Captain Grindstaff tells 47abc, they hope the display can inspire the crowds to give it their all in all aspects of life- just as they do, 50,000 feet above us.