Elsa Likely to Impact Delmarva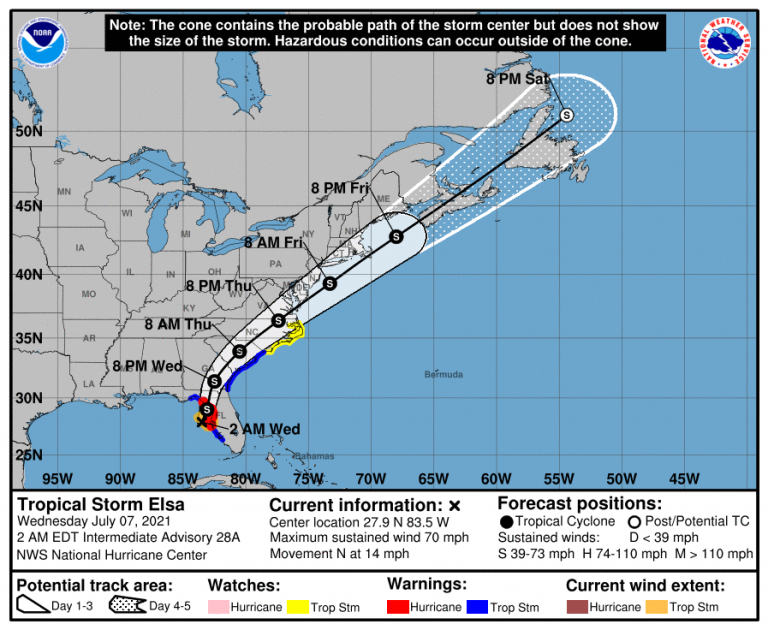 Tropical Storm Elsa is the fifth named storm of the Atlantic Hurricane season, and will be the third to make landfall in the United States. Tropical Storm Claudette was the first storm to make landfall in the U.S. and was also the first deadly storm of the season.
Elsa is expected to make landfall somewhere between Tampa and Cedar Key in western Florida on Wednesday morning. The storm will lift north into the southeastern U.S. where it will weaken a bit more, likely staying a tropical storm as it eventually reaches Delmarva on Thursday. The exact path of the storm is still uncertain at this time, but the latest trends have been to shift the track more to the west, which could put the higher impacts (heavy rain and severe weather) over Delmarva. The greatest impacts in our area will likely be felt overnight Thursday into Friday.
The latest forecast track from the National Hurricane Center has Elsa going right on top of Chincoteague Island, VA as a tropical storm Thursday night, but the cone of uncertainty goes almost as far back as D.C., so it could track anywhere within the cone. Either way, right now it looks like heavy rain and some breezy winds are likely. The severe aspect still needs to be determined.
The path of the storm is so important in determining what kind of weather our area receives. The most dangerous portion of a tropical system is the northeast quadrant. That's where the strongest winds and greatest threat for severe weather exist. So, if the storm tracks just to our west then we could be in for severe weather, including potential tornadoes since we would be on the eastern side of the storm. If it tracks just to our east, then the worst of it will stay off the coast.
Stay tuned to 47 ABC for the latest forecast.